Lewes FC: The football club with same budget for men's & women's teams
By Emily Croydon
BBC Sport
Last updated on .From the section Women's Football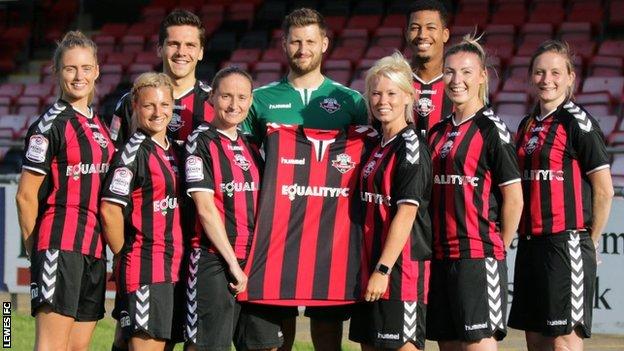 Women's Super League
Date:
Sunday, 9 September
Coverage:
Watch Arsenal v Liverpool at 12:30 BST on BBC Sport online, the BBC Sport app and connected TVs. Listen to live commentary of Chelsea v Manchester City on BBC Radio 5 live at 14:00.
Is it feasible that the likes of Manchester United, Arsenal and Chelsea should have an ambition to pay women the same as men?
It should be a given, says Charlie Dobres, a volunteer director at Lewes FC, who are pioneering equality at their club.
In fact, they claim to be the only club side in the world paying their men and women the same.
Lewes introduced equalised playing budgets last July, and both sides have since achieved success - Lewes' men finished runners-up in their league and were promoted to the seventh tier (Isthmian League Premier Division), while the women were selected to be part of the newly formed Women's Championship.
As Lewes Women prepare for their opening game of the season against Millwall on Sunday, BBC Sport went to the quiet East Sussex club leading this revolution on equality in football.
The Lewes vision
"You can't say it's impossible any more because we've done it."
Lewes Women share their ground with the men's team, so the move to equal pay was "the final thing to put in place".
This season, the Women's Super League is fully professional for the first time, while players in the Championship will be guaranteed eight hours of training a week.
In May, Lewes' bid to be part of the new Women's Championship was accepted, meaning they will face Manchester United Women and Tottenham Ladies in the league, and later in September they will play Arsenal Women in the Continental Cup.
"Obviously within a squad different people get different amounts, but they have the same allocation of resources," says Dobres.
"To be clear, it's not just some sort of moral crusade - although we do feel it's completely how it should be - but also a very straightforward business decision. Men's football is a relatively mature product, whereas women's football is an incredibly exciting, fast-moving thing to be involved in."
Dobres accepts their pioneering stance on equality was "probably part of the mood music" behind the Football Association's decision to promote them.
But should the women actually be receiving more than the men, as they are higher up their respective football pyramid?
"We see it as a bit of a journey whereby we start by equalising things. If the women or the men forge ahead and bring in greater revenues, that's money that comes to the whole family - think of it as a brother and sister - and we'll allocate it accordingly," added Dobres.
Since last summer both the New Zealand and Norwegian football associations have brought in equal pay for their national sides, but in England Lewes have broken the mould.
"Is it feasible that Manchester United or Chelsea or Arsenal Women will equalise their playing budgets by the end of next season? You'd have to be a fool to say that," says Dobres.
"But you start with that commitment. That's what it takes.
"We can do it much more quickly because the numbers here are so much smaller. But my challenge is: 'I'm not saying you can do it next year but surely you should want to do it?'
"Try and pick a harder place on the planet to do it than in football, a heavily male-dominated sport. I think it's a fantastic challenge to try and pull this off."
The players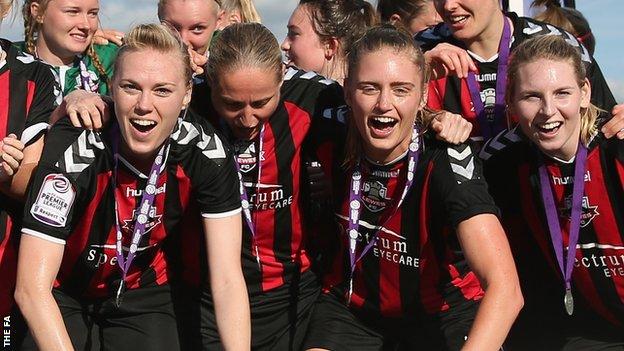 "We feel like a massive part of the club, not just an add-on or a must have."
Avilla Bergin joined Lewes shortly after they announced their equal-pay strategy last summer, and says that "straight away it makes you feel valued".
Captain Katie McIntyre has been at the club since 2011 and was "really proud" when the club adopted equal pay.
She explains the money helps with petrol expenses and shopping, but is not enough to be able to move to working part-time. McIntyre works Monday to Friday, 9am until 5.30pm, then trains in the evenings on Tuesdays, Wednesdays and Fridays.
However, she says: "Knowing they've tried to narrow that gap is enough."
Defender Rebecca Thompson says many of the players were shocked by the decision.
"You always know that women's football is going in the right direction, small increments at a time," she said. "But you don't think this is going to happen, especially at a club like Lewes.
"Hopefully they're paving the way for the future in terms of what women's football can rise to."
The fans
"Some people said: 'If you do this, people are going to turn away from you.'"
Lewes FC is a 100% fan-owned club, with all owners paying £30 a season to have a say in how the club is run.
The stance on equality was not universally accepted, and Dobres says that "there are some people on the terraces watching men's football who don't agree with it".
However, he adds: "Attendances at men's games are already up by 20-25% on last season.
"The women are starting from a low base, but last season we doubled attendances. We got a gate of nearly 1,000 for a women's game when we played Everton in the FA Cup. That clearly demonstrates what's available."
Introducing pay parity has drawn a new demographic of fans to the club, such as Dobres' wife Karen, who had never been to watch football until she heard about their commitment to equality. She is now volunteer press officer for the team.
"I'd always thought of football as a men's game and something that was a drone on the TV in the background," Karen Dobres said.
"I came to a match and I really enjoyed seeing the women playing football. It was like a breath of fresh air because I was thinking of my daughter and thought what fantastic role models they are."
She does not watch the men's team, saying she cannot "relate in the same way", but says watching the women makes her feel "stronger in herself".
"It's the centenary of suffrage so there's been a lot of awareness in the public about the inequality of the sexes, and I was thinking about the #metoo campaign and the #timesup campaign and quite often you see all this in the media and you feel powerless," she added.
"But there is something we can do - because we can support what Lewes are pioneering here."
The biggest argument against equal pay in football is that women's football doesn't generate the same revenue, but Charlie Dobres points to the time it was banned by the FA as a reason for that.
Between 1921 and 1971 women were not allowed to play on FA affiliated pitches.
"In the year it was banned, even though the men's football had already been re-established in the league for two or three years [after the war], more people watched women's football," said Charlie Dobres.
"The men's game has a bit of a lead - but give it a bit more time and I think the women's game will catch up.
"More importantly, shouldn't everyone want it to?"