Celtic 0-0 Rangers: Old Firm sides goalless in women's game
By Andrew Southwick
BBC Scotland at the K Park, East Kilbride
Last updated on .From the section Women's Football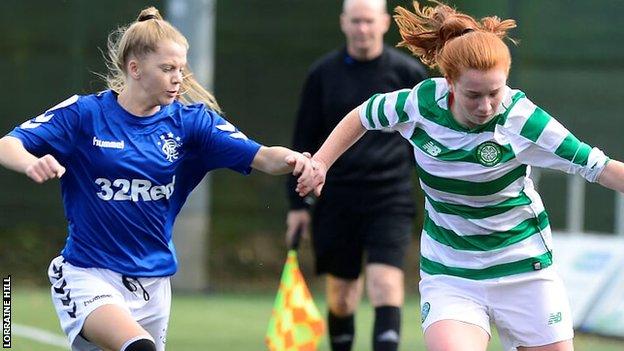 Did you know there was an Old Firm derby played on Sunday? No? You weren't alone.
While last weekend's Scottish Premiership meeting of Celtic and Rangers received wall-to-wall coverage, the women's version on Sunday seemed to be a well-kept secret.
But it was a marketing dream. On Tuesday, Scotland's women qualified for the World Cup for the first time. Women's football became part of the national conversation, even among those who knew nothing of the sport.
And those people were asking obvious questions about the teams, players, and the standard. More encouragingly, many parents were asking how their daughters could get involved. And girls may even have got the ball out in the back garden with their friends.
Add in the fact it was international week and it was an incredible opportunity to promote women's football.
But Celtic and Rangers only began advertising their game three hours before kick-off, when most people had already made Sunday plans.
Well-priced, but poor value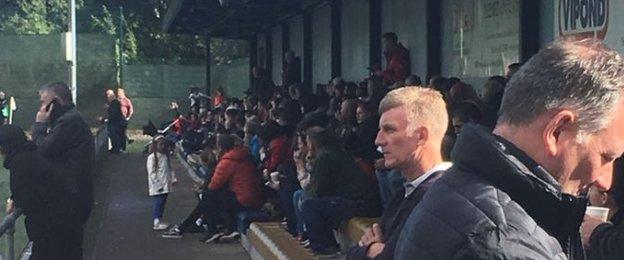 Celtic Park sat empty. Instead, around 200 fans made their way to K Park in East Kilbride and handed over their fiver to watch the first team's game with Rangers, followed by the girls academy facing their Glasgow City counterparts. It was excellent value.
But everything else seemed an afterthought. No match programme. No PA announcements to announce who the players were. There was no Green brigade or Blue Order getting the songs started. The flags, the colours, the songs and chants were nowhere to be seen or heard. Instead there was just the quiet murmur of conversation when the action dulled.
On the field it was fiercely competitive, but disappointingly goalless. Rangers had started with a flurry that soon fizzled out, and Celtic almost sneaked a win at the end when Chloe Craig's header was cleared off the line and Rachel Donaldson's effort struck the crossbar.
In his first game in charge, storied Celtic head coach Eddie Wolecki Black admitted neither side had done themselves justice. Rangers counterpart Amy McDonald called it scrappy.
Promote the game? Or just ignore it?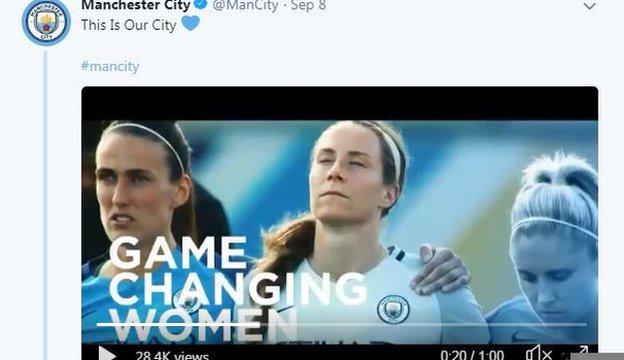 It could have been 10-10 for all the blissfully unaware outside world cared.
In England, Manchester City had spent all week previewing their women's game to their 6.39m followers on the club's main Twitter account. Video highlights, behind-the-scenes footage, pictures, and interviews were posted to entice fans - in total 11 different tweets in two days on their main social media channel.
Likewise, Aston Villa advertised to their 1.15m followers that they were streaming the women's game with Man Utd, albeit it would have been painful viewing, given they lost 12-0. Arsenal, likewise, posted 28 times about their game, with pre-match interviews, line-ups, constant updates, photos, and even a post-match video filmed by one of the players.
Celtic posted twice - the half-time and full-time scores. While Rangers Women tweeted match updates, their main account gave them an obligatory retweet before the game, then ignored the match.
Of course, the marketing resources of those English sides dwarves the more modest sums of their Scottish counterparts. But Glasgow City, Hamilton and Forfar are all doing more than the Old Firm to sell the game. And they do have a game worth selling.
City & Hibs are the real 'big two'
It was Wolecki Black's first game in charge of Celtic, having confirmed Motherwell's promotion to the top flight just two weeks ago after recovering from a brain haemorrhage.
The Dundonian made his name with four consecutive trebles at Glasgow City, then moved on to Airdrieonians in the men's game before being struck down by illness at the interval during a game at Cowdenbeath.
That he is even walking again was testament to his courage and now he faces another daunting - if far less significant - challenge of raising Celtic to the top of the women's game. They are 20 points adrift of City, with Rangers another eight further back.
But City are dominant; champions 11 years in a row. They beat Stirling University on Sunday to reclaim top spot on goal difference from Hibs, who won the SWPL's first ever televised game 2-0 against Forfar Farmington on Friday night.
The meeting of the top two on the penultimate day of the season - six weeks away - will likely decide the destination of the title. With both boasting 100% records against every other team, a draw could mean a final day shoot-out with whoever can score most lifting the silverware.
The fight to avoid relegation will also go down to the wire. Hamilton had Jade Lindsay sent off with 35 minutes to go but still found a last-minute Kirstie McIntosh equaliser to salvage a draw against second-bottom Spartans. They remain two points adrift at the bottom.