St Mirren 'should be in top six, top four' - Tony Fitzpatrick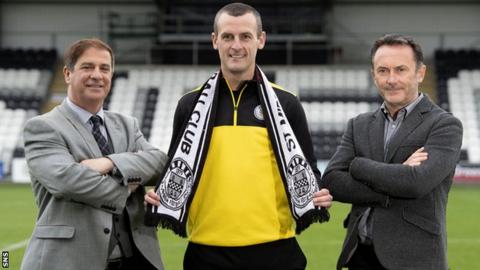 St Mirren should be "ambitious" rather than pragmatic, insists chief executive Tony Fitzpatrick.
Fitzpatrick said in 2016 the club could be Scottish champions by 2019 and this year spoke of his ambition of a top-half finish after winning promotion.
The Premiership club have appointed Oran Kearney as boss after Alan Stubbs' short reign as manager ended last week.
"The last couple of years, it's been an unbelievable journey," said former club captain and manager Fitzpatrick.
"So many managers come and start to say, 'if we can stay in the league, if we do this…'; this club, we don't want that. We're ambitious. Our supporters deserve better.
"I'm a St Mirren fanatic and I believe this club should be in the top six, top four of Scottish football."
St Mirren hope to appoint a technical director to assist Kearney with recruitment.
Fitzpatrick says the club have "somebody in mind", but the chief executive insists Kearney will be picking the team.
"We've not approached the person yet but we will be in the next few days," explained Fitzpatrick.
'We know we need to give managers time'
Kearney - the club's eighth manager in four years - was quoted on Sunday as saying he wanted "to win the league" in his new job but clarified: "If you watch the interview back and you actually listen to the question, the question is, 'what would you like to achieve with St Mirren?'
"And my answer was like it would be for Coleraine at eight years, and at any club that I've ever been to. My aspiration at the start of every season is win a league or to win a cup because I think you have to reach for the stars in anything that you do."
And Fitzpatrick commented: "I love that when a manager has the courage to say that. Why not? We're all dreamers.
"Us as a board of directors know we need to give managers time. It sounds strange because we've only given the last manager a short space of time. Oran will be given the time here, no doubt about that.
"Sometimes in life you go into a club as a player or as a manager and it just doesn't really fit. Alan's a fantastic person and he's a really good manager. We just felt as things were going it wasn't working and Alan probably felt that himself as well.
"We've got to get it right. We want stability at the club. We said that when we first came in two years ago. It's not the right thing to keep chopping and changing."