Neil Warnock: Cardiff will not 'shut shop' against Chelsea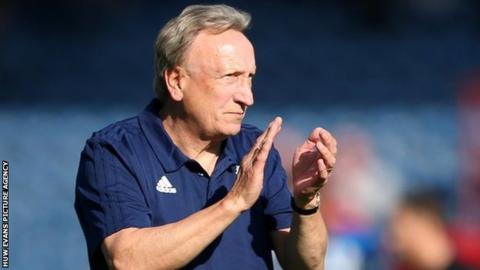 Cardiff City will not travel to Chelsea on Saturday intending to "shut shop" according to manager Neil Warnock.
The Bluebirds travel to Stamford Bridge without a win to face a Chelsea side who have won all four league matches this season under Maurizio Sarri.
However the veteran manager insists his side will try and take the game to the 2016-17 champions.
"If you shut shop at Stamford Bridge you're going to get picked off and lose by two or three anyway," said Warnock.
"So you may as well have a go, you just have to hope you don't leave yourself wide open to a pasting.
"We are looking forward to the test and with Manchester City to follow it doesn't get much tougher than that."
Cardiff, who scored their first goals of the Premier League campaign in a 3-2 defeat to Arsenal will be hoping to register their first away goal at the Bridge.
However perhaps the tougher task will be keeping out a Chelsea side who have scored at least two goals in each of the four Premier League matches this season.
"All the goals we conceded (against Arsenal) could have been prevented and we are working on that, it has probably been our strength this season," added Warnock.
"Although we went forward better it was disappointing to concede goals like we did because we have not conceded goals like that over the last 12 months."