Ethan Ampadu took 'too few touches' for England's liking - Paul Tisdale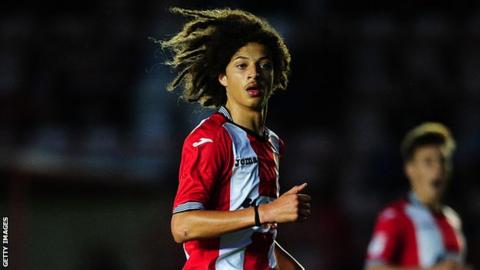 Former Exeter City manager Paul Tisdale says he recommended Ethan Ampadu to England, but was told he took "too few touches".
The current MK Dons boss gave Ampadu his first senior start aged 15 when he managed the Grecians in 2016.
However last week Ampadu committed his international future to Wales by playing in the Nations League.
"I phoned England, very relevant people, to say you have to get hold of this chap," Tisdale told BBC 5 Live.
"I haven't seen a 14-year-old as good as Ethan, but I was told he takes too few touches.
"They were looking for players who want to take more touches, but that is his strength, he does things in one touch or two touches and sees things early.
"I was told they had better, 12 players better, and they were aware of Ethan, but I told them he thinks correctly, acts correctly and makes good decisions."
Ampadu did play two games for England Under-16s in August, 2015 against United States, as he pondered his international options.
He had also been involved in Wales and England junior development since an early age, eventually settling on a future for the land of his mother.
Tisdale, who was Exeter manager for 12 years before joining MK Dons in July, said he has been monitoring Ampadu's progress since he joined Chelsea.
"He's been destined to be a very good player and I'm sure he's going to get even better," Tisdale added.
"It's been fabulous to watch his progress in the last couple years as I had a large part to play in his first year playing professional football at Exeter.
"You have to have faith in the player and it was something we did at Exeter.
"I had faith in my ability to spot his talent, but I also had extreme faith in Ethan."
Ampadu will 'force himself' to success
Ampadu sealed his international future with Wales by putting on a man-of-the-match performance against the Republic of Ireland in a 4-1 win.
The Chelsea youngster assisted Aaron Ramsey for Wales' third goal of the night and looked composed on the ball from the start.
"I watched him play the other night against Ireland and I was again very impressed," said Tisdale.
"He is incredibly talented, but it isn't about the technical ability, it is about thinking correctly in the right place at the right time and seeing the game so clearly."
The 17-year-old had a more difficult time in Wales' second Nations League game against Denmark, giving away a penalty which gifted Christian Eriksen his second goal of the game.
However Tisdale believes Ampadu is destined for success, saying: "He's so determined as a chap, he chose Chelsea and it was no surprise that before he turned 17 he had made his first appearance there.
"Whatever happens with Ethan he will be very purposeful and he will force himself through to success.
"As we have seen with Wales he steps up to every level and has confidence in his own ability."