Scotland win over Albania 'a 'step forward for Alex McLeish - now he has to take another'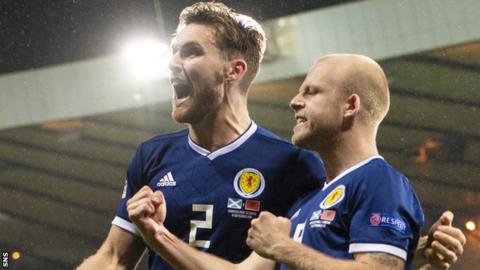 A scratchy 1-0 would have done. A flat, ugly grind. A late fluky winner. Given the mood of the nation, and the now customary soul-less atmosphere at Hampden, Scotland would have settled for that.
It was grey and damp and it was a little bit cold on Monday. Safe to say that many in the 17,000 crowd would have arrived in the expectation of seeing more of a slog than a show.
For Alex McLeish and his players the mission couldn't have been simpler. Just win. Just find a way - any way - of avoiding the catastrophe of dropped points at home against Albania, a draw or a defeat that would have finished McLeish's Nations League campaign at the first hurdle and brought with it a new kind of venom directed at the manager.
They did. What happened was, in the recent context of the national team, a pocket of joy. We were concerned that these players might have suffered psychological damage by being coursed around Hampden by Belgium three nights earlier. No.
We were concerned that the ability McLeish had in his first incarnation as Scotland manager of getting his team to play brave and ambitious football was gone forever. Hopefully not.
We were concerned about a lot of things. The lack of wit and goals and victories. The fatalism that is Scotland's curse - Gollum in football boots. McLeish didn't wave a magic wand and dispel all doubt on Monday, but what his team achieved was an entertaining and at times classy win that gave life to their Nations League hopes. That was enough. It was better, a lot better, than many would have imagined.
McLeish has to be commended. He went with Kilmarnock's Stephen O'Donnell and O'Donnell was a buzz-bomb, a terrific presence in the team. He went with Steven Naismith and, his eye-watering missed sitter apart, the Hearts striker scored one and assisted with the other, even if he was offside at the time. A slice of luck? Scotland will take it all day and all night. He made big calls in his team selection and he called them correctly.
The Scotland manager has cut a bit of forlorn figure as he's tried to cut his way through the thicket of friendlies that were placed in front of him like thorns growing through barbed wire. Costa Rica, Mexico, Peru, Belgium. Only in the world of the SFA would that schedule make sense when you're trying to build confidence after another failed campaign.
He has some respite now. That high-energy performance against Albania has to be added to in Israel next time out before the national team can hope to win back the disaffected among their support, but it was an impressive beginning.
If McLeish is trying to do his bit with the team, then his bosses have to play their part elsewhere. Ticket prices and choice of venue remain a major turn-off for supporters and that's something they need to address, something that McLeish can do nothing about.
McLeish 'ready to create new team & new formation'
McLeish said he is trying to build something new rather than papering over the cracks of what he inherited. He's right. Scotland's team against Albania was full of vast experience at club level but precious little experience at international level. That's an issue and it looks like the manger is intending to attack it.
Five of his starting line-up on Monday are still in single figures in terms of caps. Two more who began against Albania - Kieran Tierney and John McGinn - are just about in double figures. Others who might come into the reckoning in the near future are callow in the ways of international football. Scott McTominay, Ryan Fraser, Ryan Jack, Stuart Armstrong, Graeme Shinnie, Tom Cairney, Jack Hendry, Jamie Murphy, Scott McKenna, Oli McBurnie and Kenny McLean. None of them are battle-hardened in the Scotland jersey.
McLeish looks like he's ready to create a new team and a new formation. He appears to be keen on picking his 3-5-1-1, or tweaks therein, and a core group of players and sticking to it as much as form and injury allows. He wants to build the feeling of a club in the frame of a country and work on familiarity and togetherness. A bond, in other words. A bond that might get them through some tough days ahead.
So, Allan McGregor is his goalkeeper and he starts the important games. And, in most instances, he plays three at the back - John Souttar, Charlie Mulgrew and Tierney with McKenna another option when he's fit.
He is wedded to giving the Tierney and Andrew Robertson combination on the left a proper chance as opposed to ripping it up and putting Tierney to right-back in a flat back four. It looks like Kevin McDonald, John McGinn and Callum McGregor are his go-to guys in midfield. Some more excellence from O'Donnell and he could well join that group.
When the Northern Ireland manager, Michael O'Neill, was asked about the reasons behind the success of his very moderate team in reaching Euro 2016, and then progressing into the knockouts, he pointed to their canniness on the field.
Most of them had 30, 40, 50 caps. Some had many more than that. They weren't rock 'n' roll footballers, but they knew the reality of the international game and as players, and as people, they were close. The whole was greater than the sum of the parts. They had an underdog spirit and it took them to a place where Scotland haven't been in two decades.
O'Neill fielded a team rather than a collection of individuals and that's where McLeish wants to go, too. In fact, he's been there already. In his first stint in the job, Scotland won a lot of games because he built on the culture that was created by his predecessor Walter Smith. For that little spell, Scotland became hard to beat in the first instance and then added the bells and whistles - or James McFadden to give it another name.
One victory is a mere crumb in a time of famine, but it was fun watching on Monday night and how long has it been since we've said that watching Scotland has brought a smile to the face?
McLeish has taken a step forward. The challenge is to make sure the game in Israel next month sees him taking another.