Lee Alexander: 'It's been a rollercoaster at times for Scotland'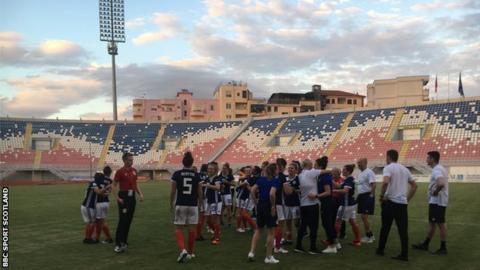 Uefa Women's Champions League last 32: Somatio Barcelona v Glasgow City
Venue: Tsirion Stadium, Limassol Date: Wednesday 12 September Kick-off: 14:30 BST
"Everyone was looking around dazed, nobody knew what was going on and how to react. Folk were crying, others trying to cry but couldn't."
Lee Alexander admits she still struggles to describe how she felt that moment in Shkoder, the obscure Albanian stage for the culmination of an heroic crusade the Scot will never forget.
"I can't remember what was happening and don't know what I was doing," she added, almost still in a daze at what took place for Scotland Women's final World Cup qualifier.
This was a moment of collective triumph for Scotland. This was the first time the country's women had ever qualified for a World Cup.
Initially unaware that Poland had done the Scots a favour and held Switzerland to a goalless draw, the noise of the final whistle in Albania signalled more than a 2-1 win for Shelley Kerr's side.
It triggered a new era for women's football in Scotland.
"Maybe it's a surprise for some on the outside (who expect) the same old Scottish story that they get there, it's always one step too far," said the Scotland goalkeeper.
"But for us it was always within our grasp."
Here the Glasgow City player tells BBC Scotland about her dream year, from her first cap to helping her country book their debut in the biggest international tournament there is.
'Experience of a lifetime'
"It's been a rollercoaster at times. It's hard to describe," says Alexander.
The 26-year-old had big shoes, or rather gloves, to fill when at the beginning of this campaign.
Scotland captain Gemma Fay had been the national goalkeeper for 10 years, amassing 203 caps for her country before retiring after playing in their first major finals, the European Championships in 2017.
The part-time player from East Kilbride, who also works in a bank, was called upon by new Kerr in October and made her debut for Scotland in a friendly against Hungary.
"For me I was so proud to get the opportunity to get my first cap," she said of the game they won 3-0. "Now I'm on 12, all within the year.
"It's happened fast but I've taken it in my stride and enjoyed every minute of it and never take it for granted.
Alexander has not only staked her claim to the number one jersey, but played a huge part in the qualifying campaign including a crucial penalty save against Poland to ensure a fifth shut-out in the net.
"You have to pinch yourself," she mused. "I don't know if because we're Scottish and that's the mentality we've always had.
"You dream big, but it's a dream. To now know it's come true, you wonder how it's happened but I suppose it's hard work."
Scots making their mark
For Alexander, the presence of Scots at the top level of football in the UK, America, Sweden, Italy and until recently Germany, speaks volumes of how far the national game has come.
The best example of that, she explained, is Chelsea's Erin Cuthbert.
"She scored the first goal for us at a major championship and has been a key part for us," said Alexander.
Work still to be done
Despite Scotland's success, Alexander's season is far from done.
Glasgow City are not only looking to fend off Hibernian to claim their 12th consecutive Scottish Women's Premier League title and trying to win the Scottish Cup back from the Edinburgh side, they have European business to attend to.
On Wednesday the Scottish champions are away to Somatio Barcelona of Cyprus in the first leg of the last 32 of the Champions League.
"In years gone by we've struggled getting bigger named, unseeded clubs so I think this year it's almost a bit of an unknown," added Alexander, who previously played professionally for Swedish side Mallbackens.
"There's been highs and lows, there's always something I can prove on and I'm definitely not the finished article - I've still got a lot to give.
"I think for the next eight or nine months the World Cup is such an incentive to work hard and be the best we can be."