Hampden: 'Where is the grand plan & finance to redevelop the national stadium?'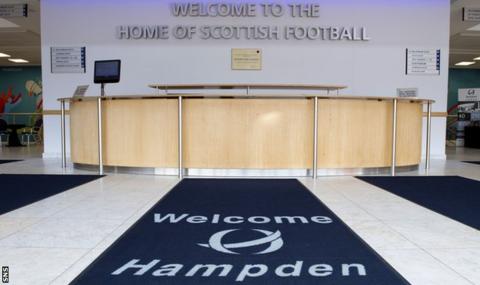 In announcing the news of Hampden's survival as the home of Scottish football, Ian Maxwell, the chief executive of the Scottish Football Association, called it a great day for the game in the country.
Maybe he was being a little presumptuous. Many will indeed see it as good news, and many others will see it as bad news. A great day? It depends who you're talking to.
Of all the reports and studies and canvasses of opinion on this issue, one view was consistently aired - if it has to be Hampden over Murrayfield then let it be a renovated Hampden, not the Hampden we have now. Let it be a Hampden that's redeveloped to improve the atmosphere and the experience.
Maxwell revealed that the association is staying where it is, but he was less clear on the plans for the future. Football fans want a remodelled stadium and he accepts that. Beyond a promise to look into things, there was no real vision here, no grand plan.
Where is the money coming from for the upgrade? Maxwell reached for the old chestnuts of potential funding from Glasgow City Council and the Holyrood government, he stated the benefits of owning the stadium, from 2020, and reaping revenues from concerts and other events.
The SFA better get in the queue and it shouldn't hold its breath when it gets there. Trying to get extra financial backing for a football stadium from local and national government is a job that renowned promoter Barry Hearn on his A game would struggle to achieve. Concerts? There are only so many worldwide acts that come to Scotland and there's competition to get them. Maxwell is going to have to do better than that.
Lord Haughey and Sir Tom Hunter have delivered millions to make sure that Hampden remains the national stadium. Might they want to stick around for a little while? Might they donate to the fund to upgrade the place? Could they rope in their rich friends? How about the rich friends of their rich friends?
It is all a question of finance
To get the Hampden that everybody wants is going to cost considerable millions. In his media conference, Maxwell was asked about Stuttgart's old Gottleib-Daimler Stadium which was redeveloped from 2009-2011 to become the Mercedes-Benz Arena.
Among many other improvements, they built new stands behind both goals and brought fans closer to the action. As a piece of football architecture it was a triumph.
Maxwell gave a "commitment to investigate" the Stuttgart model. He said he would speak to and get advice from the club on how they did it. The advice they receive might make them gulp. The Germans spent an estimated £56.5m on changing their stadium. Quality costs.
It all goes back to the question of finance. In the debate about where the national team should play, even those who championed Hampden accepted that a lot of work needed to be done on the stadium. Maxwell agrees. But who pays?
After their benevolence ensured that Glasgow remains the home of the game in Scotland, Lord Haughey and Sir Tom might expect their phone to ring and ring. Hampden lives on, but what now?
If it's the case that in five years and 10 years the same down-at-heel place remains then we'll all wonder what kind of victory this really was.