Rafael Benitez & Manuel Pellegrini: Newcastle & West Ham bosses adjust to life at bottom

By Phil McNulty
Chief football writer
Last updated on .From the section Premier League301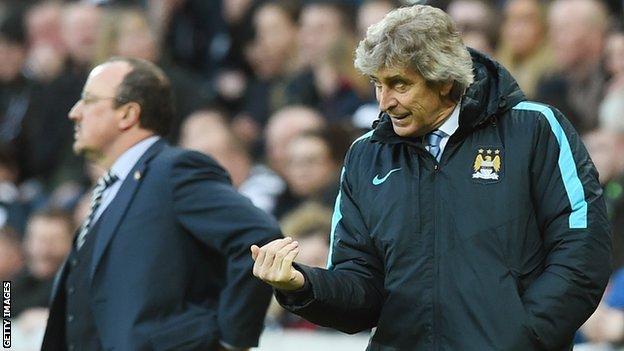 Rafael Benitez and Manuel Pellegrini are two managers used to living the high life who now find themselves stranded in the Premier League's bottom three with Newcastle and West Ham after poor starts to the season.
Benitez, a Champions League winner with Liverpool in 2005, has also collected European trophies with Valencia and Chelsea, while Pellegrini won the Premier League with Manchester City.
So how will these two decorated and vastly experienced managerial figures handle their current problems, and can they guide Newcastle and West Ham into smoother waters?
Why are these big name managers struggling?
Newcastle have unquestionably had a tough fixture list with home games against Tottenham and Chelsea and a visit to champions Manchester City. The one point they have won could have been three had Kenedy not missed a 96th-minute penalty at Cardiff.
Benitez's problem is a lack of goals. The Spaniard's side have scored only three in four games, despite striker Salomon Rondon's arrival from West Brom.
And the Magpies' main shortcoming is exacerbated by the fact Benitez's cautious, counter-attacking approach means they are often penned back for long periods, so scoring opportunities are at a premium.
In addition, they have only strung 10 or more passes together consecutively six times this season, the second lowest after Cardiff, and have managed only 10 high turnovers, rarely winning the ball in advanced positions.
So far this season, Newcastle have only made a tackle or interception after the opposition have put together an average of 18.7 passes, comfortably the worst record in the Premier League. So they are also spending relatively long spells without the ball.
For rock bottom West Ham, without a point after four games, the problem is one of style.
The most common criticism is that the likes of Jack Wilshere and Mark Noble in midfield simply do not have the energy levels to implement Pellegrini's natural attacking style or stifle the opposition when they attack.
The Hammers showed promise at Arsenal despite defeat but were heavily beaten at Liverpool and lost disappointingly at home to Bournemouth and Wolves - they now have a miserable record of played 47, won 19, lost 18 and drawn 10 in all competitions since the move from Upton Park.
Once again statistics underscore the problems, with only two teams - Manchester United and Cardiff - covering less total ground than West Ham's 422.47 km.
On average they have allowed opponents to progress 19 metres up field in every passing sequence, almost three metres further than any other side, and start their own passages of play further away from their opponents' goal than any other team - on average only 37.6 metres away from their own goal.
In other words, with no high pressing up the pitch and having also managed only 10 high turnovers so far, West Ham are easy to get at.
Who is better suited for a battle at the bottom?
Benitez's pragmatic style, which kept an average Newcastle squad away from relegation last season, looks more suited for a fight than Pellegrini's default attacking mode - and the Spaniard is also more used to this sort of situation.
The Chilean's lowest league position at any point during his time at Manchester City was ninth, whereas Benitez was appointed close to the end of Newcastle's relegation season in 2016. He did not keep them up but they ended the season six matches unbeaten.
"Rafa is a very good coach at shutting up shop and nicking results," former Newcastle and England winger Chris Waddle told BBC Sport.
"He did a fantastic job to keep them up [last season] but to do it a second season running with the same players is very hard because mentally and physically it is very hard on the players to work the system he plays.
"Rafa's very tactical. The problem for Newcastle is when they go a goal down and have got to come out a bit - but he knows how this works, whereas Pellegrini is very attacking and may have to adjust his style a bit, get a result somewhere and hope to kick on from there."
Ian Wright, the former Arsenal and England striker who also played at West Ham, believes Pellegrini's battle can be won on the training pitch, where he must "start doing his stuff".
"He has got the players, now he has got to start doing a bit with them. He's got to start coaching them," he said. "I saw them against Bournemouth and I have never seen a team so easy to get through.
"They don't look like a team, at the moment, that the manager has spent a lot of time on the shape and the system."
Spanish football expert Andy West points to Pellegrini's successes at Spanish sides Villarreal, whom he led to a Champions League semi-final, and Malaga - fourth in La Liga and Champions League qualifiers under him - as a sign that his acumen and adaptability should not be underestimated.
"Pellegrini is an astute and flexible tactician who showed during his time with Villarreal and Malaga that he knows how to get teams to punch above their weight," he said.
"Although he's best known for his time with City and Real Madrid, his achievements with those two clubs were the greatest showcase for his managerial talents"
A contrast of expectations
Benitez's relationship with adoring Newcastle fans and the Toon Army's toxic relationship with owner Mike Ashley means the manager is largely shielded from criticism.
His lack of spending power also shapes the view of his work and means he is not expected to bring trophies or elevated league placings to St James' Park.
Pellegrini, in contrast, is dealing with higher expectations after being backed to the tune of almost £100m by West Ham's owners this summer and handing Wilshere a lucrative three-year deal on his arrival from Arsenal.
The transition has been a difficult one, with eight of Pellegrini's summer signings figuring in the 1-0 home loss to Wolves.
There is no question the mood is still not right after the move from iconic Upton Park, Pellegrini firing off an early complaint when supporters left early in the Bournemouth defeat.
Pellegrini's understated body language has even been called into question, with suggestions the intensity of West Ham's support requires a more animated and open personality than the quiet 64-year-old.
"His calmness on the touchline should not be mistaken for a lack of passion," said West.
"He is firm but fair and doesn't take any prisoners, but he certainly won't respond to West Ham's current situation by becoming a ranter and raver."
It is still early days and West Ham's owners have reiterated their support for the man they regarded as the sort of elite appointment that their fans demanded and a broken club required.
"At Newcastle it is totally 'In Rafa We Trust'," said Waddle. "Rafa respects the fans and it must be great thinking they could be in a bottom-six battle and the fans will be on your side.
"In a few weeks they could turn on Pellegrini or whoever is down at the bottom but at Newcastle Mike Ashley gets it in the neck not Rafa. If Rafa stays in the Premier League he will get pats on the back - for Pellegrini, time will tell."
Who will escape the slump?
West Ham travel to Everton, a traditionally unhappy location for the Hammers, on Sunday hoping to avoid making the wrong sort of history.
The east Londoners have never lost their opening five games of a league season in the top four tiers of English football.
Newcastle face another tough assignment at home to Unai Emery's Arsenal but can take some reassurance from the fact that even though they have lost to Spurs, Chelsea and Manchester City, the margin of defeat has been a narrow 2-1 on each occasion.
Wright had words of warning when he told BBC Radio 5 live's Monday Night Club: "If West Ham carry on like they are now and don't get it right - and it is up to Pellegrini to get it right with some of form of system and defensive acumen - they will be dragged into it."
Waddle is cautiously optimistic for Newcastle, saying: "I would say they have got enough to stay up but they will be in a battle. I don't see them getting away from it with 10 or 15 games to go.
"It will a long season but they have got the manager to get through it."