Hearts' Craig Levein feeling 'lot better' as he returns to media duties after health scare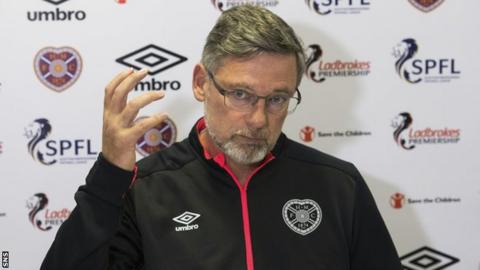 Hearts manager Craig Levein will decide on Friday if he will be in the dugout for Saturday's trip to Motherwell following his recent health scare.
Levein has hosted his first pre-match media conference since being admitted to hospital on 27 August.
The 53-year-old declined to discuss the events of that day.
"I know I have to speak a bit about it, but I don't want to go into too much detail other than to say I'm feeling a hell of a lot better," he said.
"I'm getting stronger every day. I haven't 100% made my mind up about being in the dugout or not."
Hearts travel to face Stephen Robinson's Well at Fir Park leading the Scottish Premiership by two points from reigning champions Celtic.
"For me it's simply about having energy - in case I need to fight with Stephen," Levein joked.
"I have a bit of a cold and I'm a wee bit lacking in energy, but I will make that decision tomorrow.
"If I'm not in the dugout on Saturday, I definitely will be the following game."
While Levein did not wish to talk about the specifics of his health issues, he thanked "the staff at Edinburgh Royal Infirmary coronary care unit and the paramedics for everything they did for me".
The manager, who returned to work on Monday, was staggered by the amount of good-health messages he has received.
"It was fantastic," he added. "My daughter said to me it was 'the best career move you ever made', which I thought was quite funny. 'You should have done it earlier', she said.
"It's been overwhelming the amount of people that have been in touch - not just from football but from other sports as well.
"But I want to really make today's press conference about our game on Saturday."