Champions League: How many England players are starting in Europe's top competition?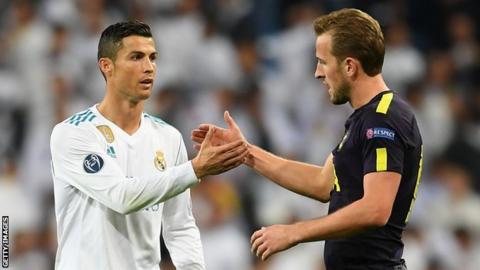 The Champions League is back this week - where the best players in the world, playing for some of the best club sides in the world, face each other every other week
Liverpool's run to the final last season, including their quarter-final victory over Manchester City, fed the narrative that English clubs were back among Europe's elite.
But with the ongoing debate about a lack of big game experience in the national side, how many English players are actually starting Champions League matches?
Top 10 countries with most starters in 2017-18 Champions League
Source: Gracenote
Country
Number of players starting a game
Spain
59
Brazil
55
France
49
Argentina
33
Germany
33
Portugal
32
Netherlands
29
Belgium
28
England
26
Italy
22
Russia
22
The answer is 26 last season, the highest number for five years, but that was largely because there were five English clubs in the group stage for the first time - Liverpool, Manchester City, Manchester United, Chelsea and Tottenham.
And England actually fell behind Belgium and the Netherlands in terms of countries ranked by the number of players starting.
Spain, Brazil, world champions France, Argentina, Germany and Portugal also had more starters.
Scotland had 10 players in the Champions League last season, ranking 16th overall. Celtic reached the group stage in 2017-18 but failed to do so this year.
Wales had two starters with one of them, Gareth Bale, scoring twice in the final as Real Madrid beat Liverpool 3-1.
England could drop further this season as there are only four English teams in the competition while Italy have one more participant than last season.
"Every World Cup and European Championship winner since 2000 has been in the top five nations for most players in the Champions League that same season," says Simon Gleave of data analysts Gracenote.
"Given this, it is important for the success of the England national team that as many English players as possible start Champions League matches."
Of England's World Cup squad, Leicester City defender Harry Maguire was the only outfield player never to have started a Champions League match.
Fifteen members of England's 23-man squad started matches in last season's competition while Danny Welbeck, Jamie Vardy, Phil Jones and Ruben Loftus-Cheek have played in the Champions League in the past.