Serie B: Officials deny Italian second tier has been suspended amid legal row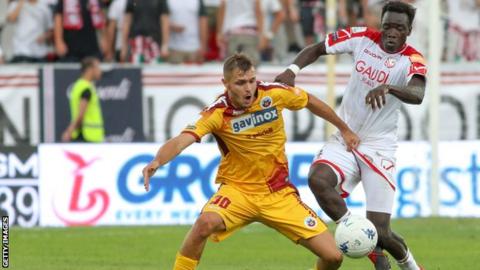 Serie B chiefs have denied the league has been suspended amid a legal row over how many teams it should have.
The Italian second tier has had 22 teams since 2004 but Avellino, Bari and Cesena went bankrupt over the summer.
It was decided to start the new season without replacing them, prompting legal challenges from relegated teams, and from those who missed out on promotion.
An Italian Olympic Committee (CONI) official had said a court in Rome suspended the league until 9 October.
Franco Frattini, a former foreign minister now working with the CONI's High Court of Sports Justice, on Tuesday told Italian radio station inBlu that a meeting on Friday would seek to "review the issue in a completely new composition" as a result of the verdict.
It followed a successful appeal by Serie C side Pro Vercelli, overruling a previous CONI decision to reject their case for being included in Serie B.
Frattini added that if CONI decides 22 clubs should be involved, the question of which three should be brought in would be settled on Monday.
However, a Serie B statement released following his comments criticised "damaging" and "untruthful news".
It read: "Serie B is not suspended and the championship continues because it is what millions of fans want."
Serie B has already had three rounds of games, while the third tier Serie C only started on Sunday.
Frattini, asked how dealing with this case compared to his work in politics, said: "Every week I write sentences on the mafia infiltration of the economy and yet I have to say that this football gives some problems."