Yeovil Town Ladies: WSL club have left Somerset for 'untapped market' in Dorset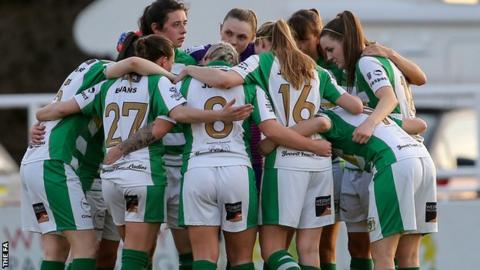 Yeovil Town Ladies can embrace an "untapped market" for women's football by playing home games in Dorchester, says chairman Stephen Allinson.
The Women's Super League club host Arsenal in their first home league game of the season on Wednesday (19:45 BST).
The Lady Glovers, who were previously based in Somerset, have moved around 20 miles to Dorset from Huish Park, the home of Yeovil's men.
"There is a huge opportunity to develop here," Allinson told BBC Sport.
"We will only grow if we have a home, and Dorchester Town FC - as a home - is equivalent to the grounds where some of the 'bigger' WSL clubs play."
Yeovil - who finished bottom of last season's top flight - previously played their home fixtures at multiple different venues across Somerset, including Taunton and Weston-super-Mare, prior to this summer's restructure of the women's leagues in England.
Clubs in the WSL were required to meet strict new professional criteria to play in the division this term and, following a successful application, Yeovil have made the transition to full-time training.
"I accept and understand that the FA want clubs to play at one ground," added Allinson. "What's really impressed me, as well as playing on this lovely 3G pitch, is the welcome from the Dorchester directors, who say 'this is your stadium as well as ours'. It is a real partnership.
"It is an ideal stadium for us, because of the size, and on that area of the south coast, there is an untapped market for the women's game to grow."
As well as a new home ground, Yeovil also have a new board of local business people and a new manager in former Millwall Lionesses boss Lee Burch.
He arrived as ex-Lady Glovers first-team boss Jamie Sherwood switched to the role of director of football.
After beginning their league campaign with a 4-0 defeat at Reading, on Wednesday they face a highly-rated Arsenal side who beat Liverpool 5-0 on the opening day.
Life 'an absolute rollercoaster'
Yeovil, the only WSL club not linked to either a men's Premier League or Championship side, launched a crowdfunding bid last October to help fund their progression to full-time status before being granted a licence to stay in tier one, and Allinson says keeping their place was "a relief".
"There is no doubt it has been an absolute rollercoaster," he added. "But I believe passionately that the women's game has got to succeed on its own two feet. That means clubs have got to become self-sustainable.
"I want to show there is another way to grow the women's game, rather than just relying on cheques from a men's club. History has shown that model can produce casualties, with real hardship for players and others when that happens.
"I realise this produces huge challenges for us as the amounts involved at the top of the pyramid appear to be increasing. However, we shall continue to seek to grow and develop.
"Hopefully more and more people from the south west will engage in what we are doing at all levels, as we believe what we are trying to do is something really special."