Ed Sheeran, Mumbai soccer schools & e-sports - Mark McGhee's life after 'biggest injustice'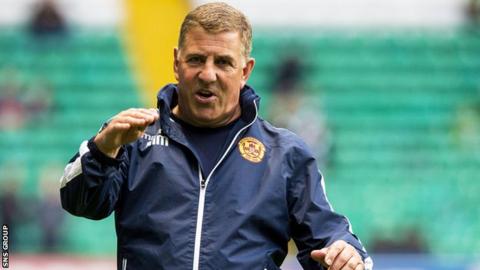 "I was asked to do everything from arranging for Ed Sheeran to play in Dubai to putting football into schools in Mumbai."
Mark McGhee's path since purposely wandering off the well-travelled road of football management has been a journey of enlightenment.
After 962 games as a manager, it is 19 months now since the former Leicester, Brighton and Aberdeen boss was moved to make the decision to turn away from his craft.
The end of his time as Motherwell manager in February 2017 remains a source of pain and frustration as he recalls the "horrendous" and "horrific" night he was humiliated in front of his son at Pittodrie.
Escorted to the stand by police in a 7-2 defeat, McGhee was then filmed by a Dons fan as he was goaded by the home support around him, with the video of him taking exception going viral.
Now enjoying a career away from the dugout, McGhee tells BBC Scotland about how he was asked to track down one of world music's biggest superstars, how he is still angered by the "biggest injustice of his life" and what the future holds for him.
Hunting for Ed & a Mumbai project
In June, a time normally reserved for tracking down new signings, McGhee was instead embarking on a different talent search.
"I was working with an Indian club trying to raise finances for them to build a new stadium," explained the 61-year-old, who left his position as a consultant at League Two Barnet in March.
"These guys have contacts in Dubai and one of them had asked if it would be possible for Ed Sheeran to play there and they then asked me.
"When I first considered it, I thought 'How the hell do you go about that?' and then I realised he was playing at Hampden in the summer so I contacted those in the know.
"They put me in touch and I quickly established he had been there last year and wasn't coming again, so within a couple of days I had them a very clear answer."
The change of scenery is something McGhee clearly is enjoying.
His last full-time managerial post ended at Motherwell in February 2017, and his eyes have been opened to other opportunities.
"It was a new project for me but it was what I was wanting to do - to get involved in other areas of the game," he said.
"I've got involved in a project to look at putting coaching courses into schools in Mumbai, which is a nice, interesting project which is just getting up and running now."
"It still makes me sick"
McGhee's change in direction can be traced back further than his four-month spell at Barnet - to the last few weeks of his time at Fir Park.
A run of poor results - two wins from his last 13 games - ultimately led the Lanarkshire club to act, but the man who took Motherwell into Europe during his first spell in charge insists he had already made a "conscious" choice to decide "enough was enough".
After his departure, McGhee was given a six-match touchline ban by the Scottish FA after being charged over his conduct towards a match official during that 7-2 defeat at Pittodrie, his third last game in charge. It came three months after he was cited for an altercation with an "overzealous" Dens Park "bouncer" in a 2-0 loss at Dundee.
"I have to say it still feels like the biggest injustice that's ever been done to me in my life. It still makes me sick to think that's what happened to me," explains McGhee. "I can't put into words how strongly I feel about it.
"It was partly the thing at Pittodrie and the incident at Dundee where I consider I was manhandled by a bouncer.
"That [six-match ban] hangs over me and it's practically impossible for me to consider coming to Scotland because of that."
'It precludes me from working in Scotland'
Undoubtedly what happened at Pittodrie, home of the Aberdeen team with whom he won the European Cup Winners' Cup and Super Cup in 1983, still chastens.
Following an altercation with the fourth official, McGhee was sent to the stand before a fan sitting in front of him called him a "clown". The incident was recorded on a mobile phone.
"When I was sent to the stand, to be treated the way I was and then to be given a six-match ban, well, enough was enough," he said.
"I don't think anyone should be treated like that. It was so unprofessional for them and so undignified. It was shocking.
"I have nearly a thousand games as a manager and to be treated like that was horrendous. My eight-year-old son was at the game and witnessed it all. It's just horrific.
"All of that doesn't sit well with me and therefore precludes me, I think, from working in Scotland."
The future - 'it's all good fun'
McGhee was recently linked with the Greenock Morton manager's job but he insists there was nothing in the rumours of a return to his old club.
While admitting the door is not closed on a return to management, the Gothenburg hero says he is excited by what his future holds across a broad horizon.
"I always thought after the Motherwell job, especially if I got to the 1,000 games, then I was already thinking of a Mark McGhee consultancy role," he said.
"I had been to Barcelona. I was asked to get involved with a project on e-sports which I'm still considering.
"They want to put on big events for e-sports and they wanted to bring it to England. They just wanted me to be an agent for them in a sense. It's all good fun."