Partizan v Red Star Belgrade: The derby which divides and unites a country
Last updated on .From the section European Football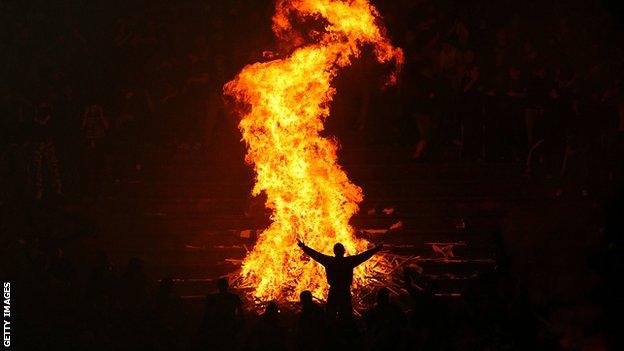 It is the derby that brings a country to a standstill and always creates headlines - sometimes for the wrong reasons.
On Sunday, Partizan Belgrade host Red Star in one of European football's most bitter rivalries.
BBC Sport looks at the 'Eternal Derby' with Fulham manager Slavisa Jokanovic - a former Partizan Belgrade fan, player and manager - Red Star defender Milos Degenek and Darko Nikolic, a journalist for Serbian newspaper Blic.
The game that dominates the whole of Serbia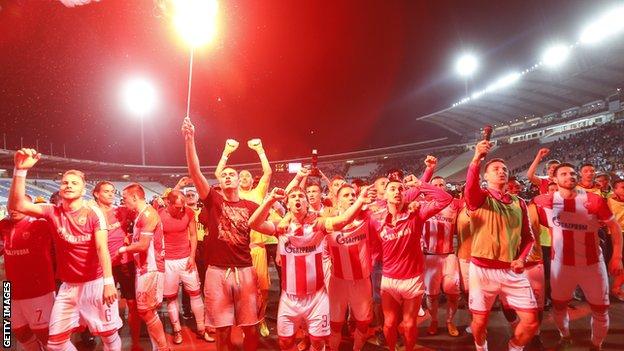 Red Star and Partizan Belgrade's stadiums are only a 12-minute walk apart in the Autokomanda suburb of the capital - but the game is not just the derby of Belgrade, it is the rivalry that unites - and divides - the entire country.
"When it comes to Belgrade rivalry, Serbia has two states of mind," Nikolic told BBC Sport. "You are either a Red Star or Partizan fan. Maybe 50% of our citizens support Red Star, with about 45% for Partizan. Fans of other clubs, and people who don't support anyone, account for the other 5%."
Jokanovic grew up in Novi Grad, 60 miles from Belgrade, but was a Partizan supporter, and won the 1992-93 league during his three years playing for the club before managing them to domestic doubles in 2007-08 and 2008-09.
"It's not only the city, the whole country is talking about this game," he told the BBC Euro Leagues Football Show. "It is the derby between the two most famous Serbian teams and in the past the two most famous Yugoslavian football teams. This is a special day for supporters from both clubs. People are talking about this game many days beforehand.
"Red Star is the most famous team - probably 55 or 60% of people are Red Star supporters. I am a Partizan Belgrade supporter. I am very happy with my choice. I was very happy to defend their colours in the good and bad moments, I always stay with my team."
Belgrade-based Nikolic says: "It's not strange that the first gift to a baby is something with the Red Star or Partizan emblem on it."
The rivalry goes beyond football - with both clubs having teams across several sports, something quite common in continental Europe.
"We have fireworks in terms of behaviour when basketball is played, and sometimes even when it's handball, or a volleyball match betweens those two clubs. Both have at least 20 sports sections, so that's 20 or more possibilities twice per season for derby day," Nikolic added.
Is it as violent as it used to be?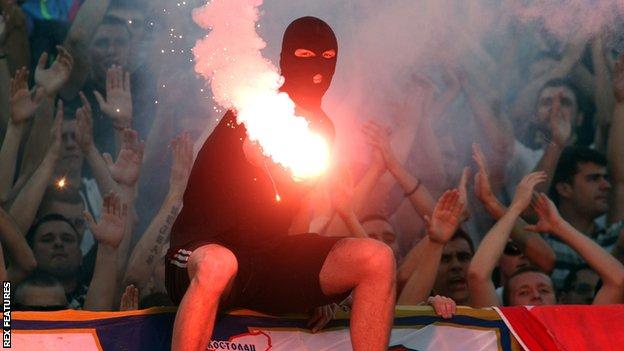 The Belgrade derby has a long association with violence - most notably in 1999 when a teenage Red Star fan was killed by a rocket fired by Partizan fans.
In 2013, 104 arrests were made following clashes before, during and afterwards. And in another derby that year, fans set fire to the seats during the game - pictured at the top of this page.
A 2015 derby was delayed for 45 minutes because of crowd trouble, with fans throwing seats and flares at riot police. When the game got under way, fans threw stun grenades onto the track around the pitch.
Jokanovic says: "It's difficult. Sometimes this kind of the game goes the wrong way. It can be interesting for people outside the country but we get a bit tired of the situation.
"It's still one of the biggest derbies around the world. What we want is more quality and better football, and a little bit more quiet in the crowd, without the violence."
Despite all of this, journalist Nikolic claims "it's a bit calmer nowadays than it used to be".
"There is not violence of the magnitude like in 1990s or at the start of the 21st Century any more - mostly because police are more ready than ever, and we have new, pretty harsh laws against those who commit violence at sports events.
"But there is still a high risk that clashes will happen, as people come from all around, not just Serbia, but the Balkans and Europe - Red Star's fans have strong connections with 'brothers' from Spartak Moscow and Olympiakos."
Of the 104 fans arrested after that 2013 game, 20 were from Bosnia-Herzegovina, four were Russians and one was a Greek national.
"At the stadium, there are no more clashes between rivals, because of police, big fences and stewards, but there can be violence from burning something. It's scary sometimes, so you can understand why parents won't take their young children at those games," added Nikolic.
"Rivalry among hardcore fans is so big that you don't need derby day for them to clash. Many ordinary supporters, who attend usual games, refuse to go to Red Star v Partizan matches for fear of violence."
The trouble seems to be cyclical, with Jokanovic saying the derby used to have less violence in his supporting and playing days during communist Yugoslavia in the 1980s and 1990s - but added "I don't know why, I cannot explain it".
"There are fewer supporters in the stand than the time I played," he said. "I played in front of 100,000 or 55,000 in our stadium but now, because of Uefa regulations, the capacity is less.
"I watched many games from the ultra stand. It was a little bit more quiet but with more people in the stand [than now] - without any violence."
'It's just sport, not political'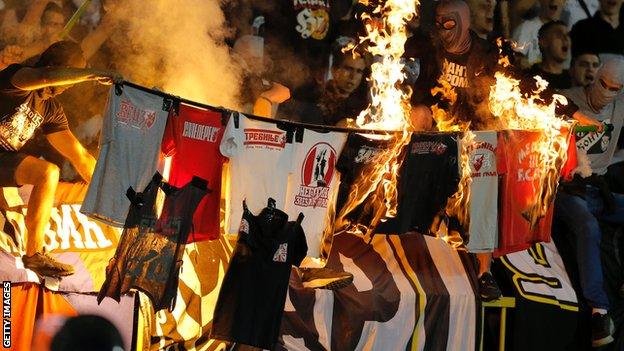 Perhaps surprisingly to observers in other countries, considering the complicated political history in the Balkans, there is no real political edge to the Belgrade derby.
Both sides were formed in 1945 after World War Two, with Partizan founded by the military and Red Star set up by some members of the police force.
"People who were in the army and around it - and in communist Yugoslavia that's a lot of people - were Partizan fans," said journalist Nikolic. "All others from Serbia - the other five Yugoslav republics had their own giants - were cheering for Red Star.
"But, as decades passed, those kind of partitions ceased to exist. Before the bloody conflict that saw Yugoslavia fall apart in 1991 to 1995, fans of both major Serbian and Croatian clubs [Dimano Zagreb and Hadjuk Split] started to identify their beloved club with their own republic.
"So, it was not Red Star v Dinamo Zagreb any more, it was Serbia v Croatia all over. One of their meetings in 1990 is still known as 'the game that started the war'."
That game saw Dinamo captain Zvonimir Boban famously attack a policeman after a riot broke out which highlighted nationalist tensions between Croats and Serbs.
Nikolic continued: "After Yugoslavia broke up, Red Star and Partizan fans were united in some clashes with Slobodan Milosevic's regime police, but it was their sole united front at that point - after uniting sometimes against Croatian fans - but nothing near that has happened since 2000. It's just sport now, and a bit more than it. But not politics."
Jokanovic said: "I cannot find a big relationship with the political situation and the complicated time. I don't believe this political situation brings any extra violence to the game.
"There are many occasions where people in the same family support the different teams."
What is derby day like?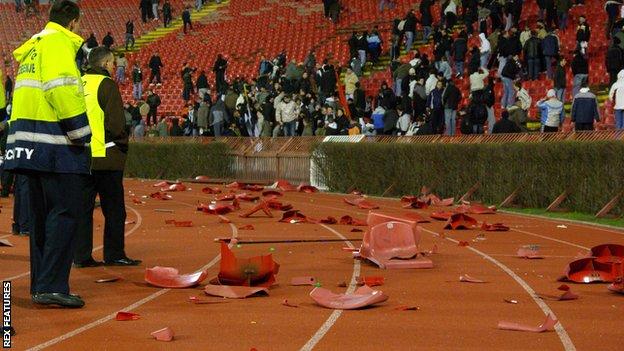 Jokanovic, who won 64 caps for Yugoslavia, has an informed view on the derby - having watched them from the stands, played and managed in them.
"The best moment for Partizan players, supporters, coaches is victory. I won more games than I lost. I lost one game as a player and one as a coach. I worked on about 15 or 16 games," he told BBC Radio 5 live.
"I remember this derby from my childhood. I was a supporter of Partizan Belgrade. I watched many Belgrade derbies. We both have really hard, strong ultras and this can be sometimes a little bit dangerous.
"I watched, played in and coached this game - I cannot be surprised with anything. But it's loud. It's incredible. I remember when we played the game it was impossible to talk to your teams-mates and give instructions. You can move your hands but can't make conversation."
The Red Star Stadium - also known as the Marakana - used to hold 100,000 and the Partizan Stadium used to have a 55,000 capacity - but both grounds have been almost halved because of Uefa rules.
"I played against one of the most important Red Star teams - at the start of the 1990s where they were champions of Europe and world champions," said Jokanovic. "That game in front of 100,000 people with a hot atmosphere - big crowds and big ultras who don't stop supporting the team. Sometimes it's impossible to hear what's happening around you.
"The fans have an important role in the derby. At the end of the game [people see] who wins the game in the stands. It's not natural for English football but this is the emotion."
Nikolic added: "You can see ordinary people, even serious ones, coming to offices in Red Star and Partizan jerseys when it's derby day."
The BBC's World Football Show spoke to Red Star defender Milos Degenek. The 24-year-old - who supported the club since childhood - was made a refugee twice as a child and left Serbia with his family in 1999 for Australia.
He joined his boyhood club this summer and is ready to make his derby debut. "When I walk down the street, because of Red Star reaching the Champions League, we only get positive vibes," he told BBC World Service.
"I don't think things will change [if they lose the derby]. We want to stamp our authority on this league but it won't be easy. The derby is always a one-off game. Everyone wants to win and it's a very difficult game. I've heard what it's like so you want to prepare really well for this game."
A slightly different build-up to usual
The run-up to this game in Belgrade has been slightly muted compared to usual because Red Star made their Champions League return after 26 years away this season.
They drew 0-0 at home with Napoli on Tuesday in front of almost 50,000 fans on their first group game in Europe's elite competition since 1992.
"This derby is a little bit different because Red Star supporters have been focusing on the Champions League. But people will start thinking about Sunday's game. It's a hot derby," said former Watford boss Jokanovic.
Nikolic said: "Red Star's enormous emotions must quickly be restored for the 'biggest game of all'. Even if it happens, is it enough for victory at Partizan's ground?"