World Cup 2030: Football Association of Ireland enter joint bid discussions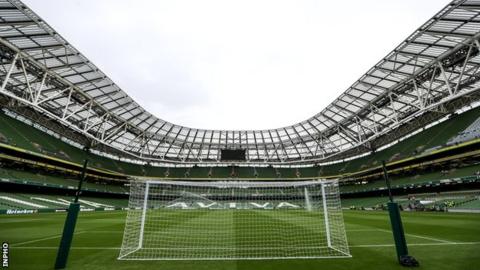 The Football Association of Ireland has joined discussions over a potential joint bid for the 2030 World Cup.
Last month it was revealed that the governing bodies of England, Scotland, Wales and Northern Ireland would conduct a feasibility study into the prospect of a home nations bid.
The FAI will now join the study following "recent positive discussions amongst all parties".
The 2030 World Cup is the next in which a European venue is a viable option.
Dublin's Aviva Stadium will host three group matches and a last-16 tie at Euro 2020, while the 82,300-capacity Croke Park was part of Ireland's unsuccessful bid for the 2023 Rugby World Cup.
The discussions among the five FAs are known to be exploratory as opposed to confirmation of a definite bid.
"This is something that has come up in conversation and it is something we are looking into," said FAW chief executive Jonathan Ford in August.
"It's no more than that and there's going to be no news until at least midway through 2019."
England received just two votes when they bid for the 2018 tournament. However, Fifa vice-president David Gill said England should have "great confidence" in bidding for the 2030 tournament.
A joint bid for 2030 is also expected from Argentina, Uruguay and Paraguay while Tunisia have backed a north African bid alongside Algeria and Morocco.