Jersey Bulls: Newly-formed island side hope to join English football pyramid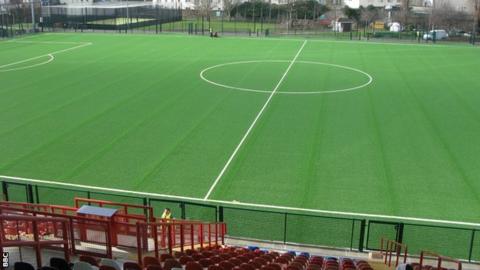 A newly-formed Jersey team is aiming to be the first side from the island to play in an English league after seeking to join the Football Association.
Jersey Bulls are hoping to compete in England's 10th tier from the start of the 2019-20 campaign.
They are following in the footsteps of fellow Channel Island side Guernsey FC, who joined the English leagues in 2011.
It comes after Jersey's bid to become an international football nation was rejected by Uefa congress in February.
Russell Le Feuvre - a former player in the annual Muratti Vase tournament between Jersey, Guernsey and Alderney - is the club's founder and is director of operations, with the club's name designed to "celebrate Jersey's dairy heritage".
"Jersey Bulls FC provides the inspiration for footballers to play at a high level, it will showcase Jersey and raise the profile of the island," he said.
"We are confident the model we have created is sustainable and that our own due diligence, combined with that of the Jersey FA, Combined Counties and FA Leagues Committee, will ensure the future success of the club."
The Bulls are hoping to join Combined Counties Division One and are in "advanced discussions" to use the island's Springfield Stadium as their ground.
Guernsey FC, who started in the same league, are now in the eighth-tier Isthmian South East Division.
"The intention is for Jersey Bulls to complement existing club football and the project has generally been welcomed by most clubs and players," Jersey FA CEO Jean-Luc Desbois said.
Guernsey FC chairman Mark Le Tissier - brother of former Southampton and England star Matt - added: "We were delighted to be able to offer support and advice from our experiences to Russell.
"We wish Jersey Bulls well and we look forward to the prospect of derby matches in the future."