FA sex abuse inquiry: Delay in independent review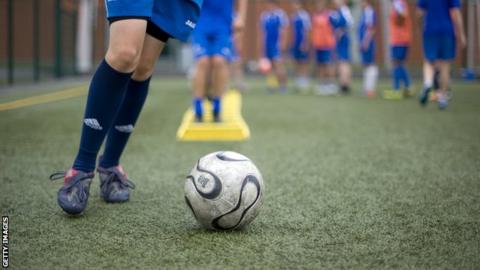 The independent review into child sex abuse allegations in football has been delayed indefinitely because of a pending retrial and further allegations in the Barry Bennell case.
The scandal has been described as one of the biggest crises in the history of the Football Association.
"Due to the ongoing criminal investigations and prosecutions it has not been possible for all those who want to speak to the review to be able to do so," said Clive Sheldon QC, who is leading the investigation.
"Whilst I had hoped and expected to complete my review this autumn, I believe this extension will ensure many more individuals who want to engage with the review will be able to do so.
"It is essential that the review is as comprehensive as possible."
It is not known how long the delay will be as it is dependent on the criminal matters being resolved.
In February, Bennell was sentenced to 31 years in prison for abusing 12 boys, seven of whom were linked to Crewe Alexandra.
Another coach, Bob Higgins, was found guilty in July of indecently assaulting a young trainee.
He was found not guilty of another count of the same offence. The jury in his case did not reach verdicts on 48 other counts of the same charge and was dismissed.
The prosecution said it would seek a retrial. Higgins denied all the charges involving 24 complainants, most of whom were Southampton and Peterborough trainees.
Sheldon was asked by the FA in 2016 to look into historical sexual abuse in the sport following a series of allegations by former players.
The review is looking into what the FA and clubs knew and did about allegations of child sexual abuse between 1970 and 2005.
Sheldon has been in "close and constant co-operation" with Operation Hydrant - the police operation looking into the issue - and had hoped to submit his final report at the end of September.
"However, the retrial of Bob Higgins, and the fact that there is an ongoing investigation into allegations against Barry Bennell, has required Mr Sheldon QC to review this position," police said.
A statement added that Sheldon had "decided that he should not finalise his review until he has had the opportunity to speak to more individuals associated with the re-trial of Bob Higgins and the outcome into the police investigation into allegations against Barry Bennell, and to receive and analyse any other information about abuse in football that may emerge over the coming months".