World Cup 2030: Government would back UK and Ireland bid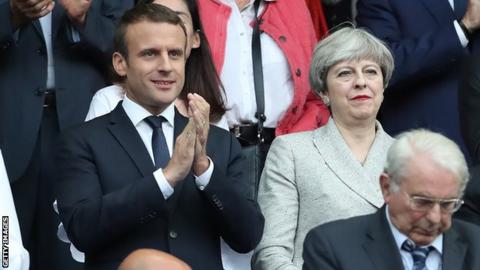 The government says it would back a joint bid to host the 2030 Fifa World Cup in the UK and Ireland.
The football associations of England, Scotland, Wales, Northern Ireland and Ireland are considering putting forward a proposal to stage the tournament.
UK Prime Minister Theresa May said: "The decision on whether to bid is for the football associations to make.
"If they decide to go forward, they can count on this government's full support."
The football associations of England and Wales released statements on Friday confirming the five national governing bodies are "in discussions about the feasibility of bidding to be the European candidate" to host the event.
The last major men's football tournament played in the UK was the 1996 European Championship, which England hosted 30 years after staging its only World Cup.
Wembley will host seven games - including the final and semi-finals - of Euro 2020, and the FA has made a bid to host the European Women's Championship in 2021.
Recent and future World Cup hosts
2006: Germany
2018: Russia
2010: South Africa
2022: Qatar
2014: Brazil
2026: US, Canada and Mexico
England failed with a bid - fronted by former captain David Beckham, Prince William and former Prime Minister David Cameron - to host the 2018 World Cup, which went to Russia.
England felt aggrieved by that bidding process but it is thought the FA has been encouraged by the greater transparency around the recent vote for the 2026 World Cup, which was won by a joint United States, Canada and Mexico bid.
However, there is expected to be a strong joint bid from Argentina, Uruguay and Paraguay, with 2030 marking the 100-year anniversary of the first World Cup in Uruguay.
Analysis
Dan Roan, BBC sports editor
A joint British and Irish bid to host the 2030 World Cup is still far from certain to materialise - but it may just have become more likely.
The football associations of England Scotland, Wales, Northern Ireland and Ireland are still in the early stages of talks over whether to proceed, and a year-long feasibility study must be completed before any decision is taken. But the government's declaration of support - which was never in doubt but which was timed to kick-start the Tory party conference - is still an important step in the process.
With Brexit looming, the government is keen to build on Britain's reputation as a host of major sporting events, and believes a joint bid would have a strong chance of staging football's biggest tournament for the first time since 1966.
However, after England's £21m bid to host the 2018 World Cup ended in humiliating failure at the hands of Fifa eight years ago - and was then heavily criticised in a report by Fifa investor Michael Garcia for having flirted with breaking the rules - some will question whether another attempt is a wise use of money, and the cost of staging the tournament if a bid is successful.
Uruguay, Paraguay and Argentina have already said they will make up a joint South American bid and Spain could also provide opposition.
Uefa president Aleksander Ceferin has suggested he would support a British bid, and the FA has been working hard to shed the arrogant image that seems to have cost England votes in the past. It has also gained confidence from Fifa reforms that have made the voting process more transparent.