Giuseppe Rossi: Former Manchester United striker avoids doping ban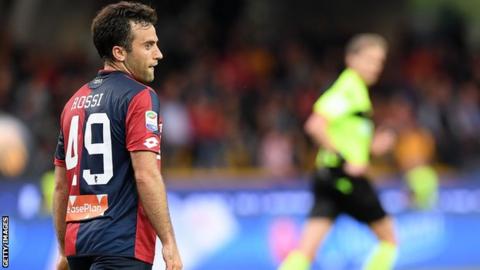 Former Manchester United striker Giuseppe Rossi has avoided a doping ban following his positive test for the banned substance dorzolamide.
The 31-year-old Italian was given a warning during Monday's hearing with the country's anti-doping prosecutor who had wanted a one-year ban.
Rossi, who has won 30 caps, tweeted: "A nightmare of four months is over. I only want to think about football."
USA-born Rossi was at United between 2004 and 2007.
The forward, who also had a spell on loan at Newcastle United, enjoyed success at Villarreal and then Fiorentina, although he is currently without a club having left Italian side Genoa in the summer.
His career has been blighted by injuries, which were documented in an interview with BBC Sport in July.
Rossi tested positive following an Italian league match between Genoa and Benevento on 12 May.
The substance is commonly found in eye drops and can be used by an athlete if a therapeutic use exemption is acquired.
However, if dorzolamide is not applied to the eyes, it could be used as a diuretic or masking agent.
"We don't understand how this substance ended up among Rossi's foods, there was no intentionality - the line of good faith and consistency prevailed," his lawyer Sergio Puglisi Maraja said after the hearing.