Tokyo 2020 Olympics: Home nations agree to GB women's football team
Last updated on .From the section Women's Football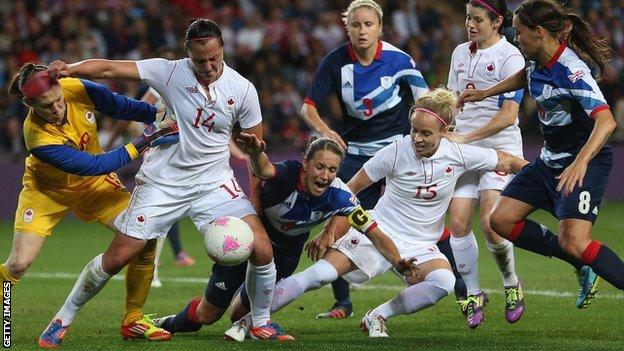 The football associations of the four home nations have agreed to allow a British women's team to try to qualify for the 2020 Olympics in Tokyo.
England have been nominated to try and claim one of the three European spots available at the 2019 World Cup that would then be handed to Team GB.
Fifa said the agreement applied only to the GB women's team and not the men's.
Team GB men's team took part at an Olympic Games for the first time since 1972 when they featured at London 2012, and a women's team made their debut at those Games.
However, no combined British team featured at Rio 2016 with the associations of Northern Ireland, Scotland and Wales opposed to the idea.
Jonathan Ford, Football Association of Wales (FAW) chief executive, told BBC Sport Wales in August that the FAW would not align themselves "politically" with GB women's team at the Olympics, but that it understood the benefits of having one.
"Politically we have always said it has been a very difficult one for us because we like playing as Wales," he said.
"The Welsh fans like the Welsh team and we don't want to ever give that up.
"Of course, there is an element of politics at play here, but we understand, especially for the women's game, there is some benefit in our women having some competition experience and the Olympics provides that.
"Politically we are not going to align ourselves with it, but we are not going to stop our players."