Hector Bellerin: Players should speak out on social issues says Arsenal defender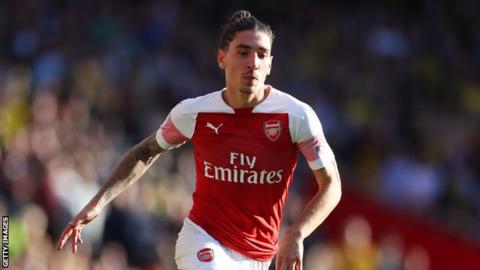 Arsenal defender Hector Bellerin believes footballers have a responsibility to be more vocal about issues outside the sport.
However, the 23-year-old says the football industry does not encourage players to speak out.
The Spaniard, who is a vegan, believes players have more they can offer.
"I think as footballers we have a massive platform that we should be using way more than we actually are," he told the club website.
"I know it is very comfortable to just sit at home and stay with your family, your kids and your friends and not think about anything, but with the platform we have, we should be the people that scream at these social issues and get them out there, so as a society we can move forward.
"I feel like the football industry is an industry where we have to be really quiet and play. I think the code around it is that footballers can't really do anything else other than kick a ball.
"This is kind of the stereotype, so when there's a footballer who's stepping out of the box he's always seen as someone that is not focused enough on football because he's doing this, he's doing that."
Bellerin also said:
He is passionate about protecting the environment and cutting plastic use.
He would consider entering the world of politics after his playing career comes to an end.
It is important for footballers to speak about their problems to get people to relate to them.
And he was full of praise for Spurs and England defender Danny Rose, who admitted before the World Cup that he was diagnosed with depression last season, which he said was triggered by a combination of injury and family tragedy.
"A lot of players have come out talking about mental health. This has always been something that has been very taboo to talk about, especially for men. After that, I know that Danny Rose had to talk about it.
"Back in the day there was a stigma for men to talk about it - it's important that we take these chains off and start talking about it moving forward with an open mind.
"There's so many good things and positive things that come with raising problems and actually showing people that we're humans. We're not machines, we're good at what we do, we have talent and we work really hard but sometimes it feels like this is all we do and our life is just playing football.
"It's not. We're humans, we have a life, we have families and we have problems and worries."