Virtus Entella: The Italian team without a division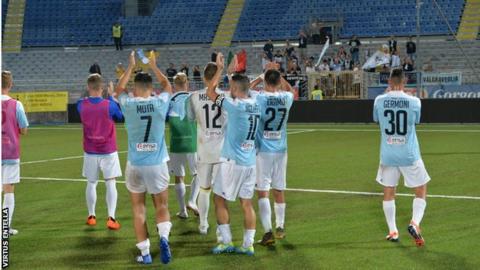 However frustrating your team's season has been, it cannot rival Virtus Entella's. The Italian side are not losing games, though - they are not playing any.
The club, based near Genoa in northern Italy, are still waiting to discover if they will be featuring in the second or third tier this season, all while both leagues get on with their fixtures without them.
Virtus Entella were relegated from Serie B - the second division - via the play-offs last season.
Normally that would be that.
But Serie B sides Cesena, Bari and Avellino all went bankrupt this summer. Virtus Entella and other affected clubs claimed they should get a reprieve but, following complicated legal battles, the second tier went ahead with only 19 teams.
Normally that would be that.
But after Virtus Entella played their opening Serie C game, a 3-1 win at Gozzano on 17 September, they were given another lifeline.
The Italian National Olympic Committee (Coni) decided a points deduction for Cesena should apply to 2017-18 and not 2018-19, meaning Virtus Entella would move up one place in last season's Serie B table and avoid relegation.
The club were told to stop playing in Serie C because they would be moved up a division. All of their fixtures were cancelled.
Normally that would be that.
But the Italian Football Federation (FIGC) stepped in and said Coni did not have the authority for such a decision - so it plans to meet with the TAR, a regional administrative court, on Tuesday, 9 October to decide what happens to Virtus Entella.
Entella defender Gabriel Cleur spoke to BBC World Service's World Football Show about the situation.
"Some players have contracts for Serie C and if they were to go into Serie B, there's a different budget and different money," he said.
"So we don't know if we're getting paid Serie B or Serie C wages. Some players are getting delayed on their payment but most are getting paid, the minimal pay - the Serie C standard wages.
"Players have families to look after. Most of the players aren't on ridiculous money or have savings they can fall back on."
Cleur is a 20-year-old Australian living in Italy - without any family - for his football career.
"Because I'm younger, I don't have savings to fall back on and if I want tickets to go home, it affects it," he said. "The players with families are stressed because they don't know if they're going to have to change teams. What happens if they stay here on a lesser wage?"
The Entella players had planned to visit FIGC headquarters and stage a protest, but the club's directors advised them not to.
"The 9 October decision isn't for when our next game is - just whether we are in Serie B or Serie C. But it could be 15 or 22 October, another sentencing date, to see when we can play.
"We want to put pressure on. The directors are saying maybe it's not the best idea."
The players are still training - often doing double sessions to try to keep up their fitness in order to match teams who are still playing. Whenever they get put into a division, presuming they do, they know they will have a lot of catching up to do.
"By then, it might be eight or nine games," he said. "We're going to have to play on Saturdays and Wednesdays for at least three months, which will be a disadvantage to us physically and mentally. It will drain us.
"We're trying to focus and keep our intensity up in training and not be discouraged, but it's hard.
"It's been draining on everyone - the players, coaches, directors, president and the fans.
"It's hard to keep the intensity up without an end date. We're doing double sessions trying to match the teams that are playing. When a team plays they pick up pace as a team, they bond so we're trying to do that without playing games.
"The older players, veterans of the game - you look to them for experience and motivation - and you can see their heads are down, struggling to keep going. We're doing our best. I'm surprised we're training this well."
Entella came through two rounds of the Coppa Italia before the mess. The next round, against neighbours Genoa, is not until December because of the way the tournament is scheduled.
Cleur, who was sent off in their only league game so far, cannot hide his frustration.
"Nobody wants to take responsibility here. Each federation is pushing on the responsibility to another. No matter how well we train, if the TAR doesn't give us a good sentencing or the Coni and FIGC don't step in and make a decision, there's nothing we can do. It's out of our hands."