Jose Mourinho: BBC Sport pundits on Man Utd manager's future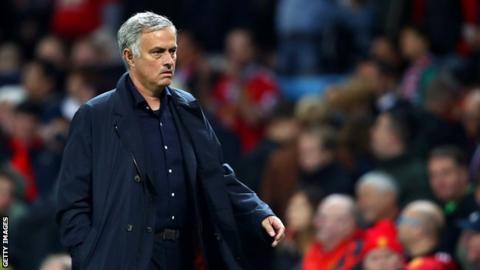 Manchester United manager Jose Mourinho is undoubtedly under pressure.
Before Saturday's comeback victory over Newcastle, his side had gone four games without a win and were nine points behind Manchester City and Liverpool at the top of the Premier League.
It led to intense speculation about his position, including one report in Saturday's Daily Mirror that he would be sacked after the Newcastle game, regardless of the result.
However, before the match, BBC Sport understood that Mourinho retained the support of the club's board.
Should he continue in the role? BBC Sport's pundits gave their views before Saturday's game.
'He is the fault in all of this'
Former England, Arsenal and Everton defender Martin Keown: "You just can't see Manchester United turning this around. The five-at-the-back formation in last week's 3-1 defeat by West Ham didn't work and they are all playing as individuals.
"Mourinho creates an amazing energy when it works, but a massive negative energy when it doesn't. He's the fault in all of this.
"I don't think you can go for the people who appointed Jose Mourinho. This is a serial winner of trophies and he's lost his way. He's got to go back to basics."
'Mourinho delivers success'
Former Scotland, Chelsea and Everton winger Pat Nevin: "With Jose Mourinho you will always get trophies and success.
"It might not be a happy place, but he does deliver success.
"The system he has adopted through his career has been very successful, but the question has now arisen as to whether he is a dinosaur and if he is outdated? I don't think he is.
"If Mourinho doesn't start winning games, he'll get the hoof and he will deserve it. You can play the way that Jose plays, in comparison to the way Liverpool and City play - but you'd better win all the time because the fans and the players will get sick of it otherwise."
'Philosophy doesn't fit with the club'
Former England, Manchester United and Inter Milan midfielder Paul Ince: "It is so messy and it has become the circus. The hub of the United fans still want Mourinho to stay, and I think you will see them back him at Old Trafford against Newcastle.
"But the biggest issue is the way that Manchester City and Liverpool have come to the fore and the way that they are playing. Manchester United under Sir Alex Ferguson won trophies and in style - but Mourinho does not do that.
"It is all right to win the Champions League at Inter in that way, but there will always be a tension at United if you play in that conservative fashion.
"The club have always been built on entertainment, but they want to win as well. Mourinho's philosophy doesn't fit with the club and they have to be playing attacking football."
'He looks isolated'
Former Chelsea and Reading midfielder Steve Sidwell: "When I played under him at Chelsea during his first spell, he had everyone in the palm of his hand - players, media, everyone in football. He didn't pick fights and chose his words carefully.
"Now he's picking little fights with everyone. It's always little niggly comments. It's so unlike Jose. He looks isolated, a lonely figure."
'He knocks attacking flair out of players'
Former England, Newcastle and Tottenham winger Chris Waddle: "Something has to give at Manchester United. There has been a problem with Paul Pogba and I just don't think those players enjoy playing football for Jose Mourinho.
"I have got a lot of respect for Jose Mourinho but he doesn't play the Manchester United way.
"He has never liked entertainers or risky footballers. What happened to Damien Duff and Joe Cole in his first spell at Chelsea? In his second, he couldn't fit Kevin de Bruyne, in the team and sold him. Mohamed Salah was loaned out and left out.
"He doesn't like players who take risks. When they play they don't look the same."
'Clutching at straws'
Former Republic of Ireland and Everton winger Kevin Kilbane: "That negativity has set in. In the goalless Champions League draw with Valencia on Tuesday, they started the first five minutes brightly but that fizzled out and they offered very little throughout.
"The game against West Ham was the most baffling. His team selection included players playing out of position with Scott McTominay asked to do a job at centre-back.
"When that happens, you're clutching at straws and that is why he won't turn it round."