Michael Carrick: 'I was depressed for two years after Champions League final defeat'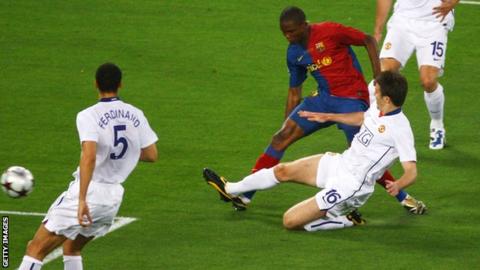 Former Manchester United midfielder Michael Carrick says he suffered from depression for two years after the Red Devils lost to Barcelona in the 2009 Champions League final.
Carrick says the 2-0 defeat triggered the "biggest low" of his career.
It culminated, the 37-year-old says, at the 2010 World Cup in South Africa.
"It was my dream to be at a World Cup but the truth is I didn't want to be there. I wanted to be at home," said the ex-England international.
Carrick blamed himself for the Champions League final defeat in Rome, after he gave the ball away in the build-up to Barca's opening goal.
"I beat myself up over that goal," Carrick told The Times.
"I kept asking myself: 'Why did I do that?' And then it [the depression] snowballed from there. It was a tough year after that. It lingered for a long time.
"I had won the Champions League the year before, but that was totally irrelevant.
"It felt like I was depressed. I was really down. I imagine that is what depression is.
"I describe it as depression because it wasn't a one-off thing. I felt bad or terrible after some games, but then you get over it in the next couple of days, but that one I just couldn't shrug off. It was a strange feeling."
Carrick, who is now assistant coach at Old Trafford, said that even though his wife Lisa and parents knew of his struggles, no one, including his team-mates, was aware of the extent of his mental health problems.
"I kept it to myself most of the time. Even my family didn't know the full extent of it," he says.
"It's not something that's really spoken about in football. I have not spoken about it before. For the lads that I have played with that are reading this, this will be the first time that they know [about the depression]. They wouldn't know."
Carrick made 481 appearances for United after joining the club from Tottenham Hotspur in 2006, with honours including five Premier League titles and the Champions League in 2008.