Russia internationals Aleksandr Kokorin & Pavel Mamaev should face 'severe punishment'
Last updated on .From the section European Football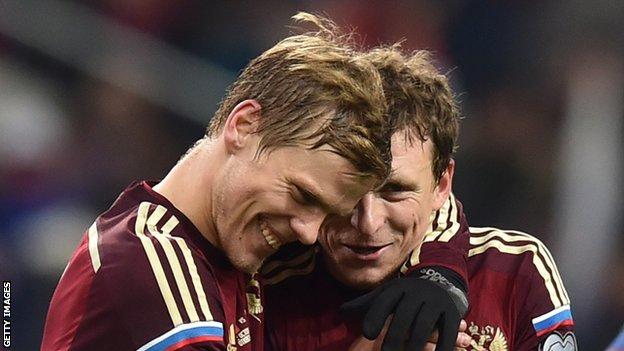 Two Russia internationals under investigation over an attack on a civil servant in a cafe in Moscow should be punished "in the most severe way", says the Russian Premier League.
Zenit St Petersburg's Aleksandr Kokorin and Krasnodar's Pavel Mamaev are said to have attacked trade ministry official Denis Pak on Monday, leaving him needing medical treatment.
The league branded them "hooligans".
In a statement, it added it was outraged by their "rowdy behaviour".
The statement said: "The Russian Premier League expresses its outrage and strongly condemns their rowdy behaviour.
"This act not only casts a shadow over the glorious names of FC Zenit and FC Krasnodar, but all of Russian football.
"We believe that those responsible should be punished in the most severe way. There is no place for hooligans in football."
Russia's interior ministry has opened an investigation into the incident.
Igor Lebedev, a member of the Russian Football Union's executive committee, added in televised remarks: "I think law enforcement agencies will qualify this as hooliganism and punishment for this is quite severe, up to five years in prison."
Zenit said Kokorin had behaved "disgustingly" and Krasnodar said they were looking to end Mamaev's contract.
"The investigation is currently establishing all the circumstances of and participants in the incident," the interior ministry said in a statement.
Kokorin, 27, has 48 caps for the national team, but missed this year's home World Cup through injury. He has played for Zenit since 2016.
"What happened yesterday in Moscow involving Aleksandr Kokorin has caused great disgust and indignation at the club," five-times Russian champions Zenit said in a statement.
"We don't think it's necessary to speak of a club punishment for the player - it will come, but right now the management of Zenit and the fans feel nothing but dismay, that one of the country's most talented footballers has behaved disgustingly.
"We await the legal assessment by the relevant bodies, but from the human and emotional viewpoint such an incident only arouses shame."
Mamaev, 30, has 15 Russia caps and played for CSKA Moscow 128 times before moving to Krasnodar in 2013.
"We are currently looking into how to terminate a contract with the player," FC Krasnodar said. "Unfortunately, contracts are drawn up in such a way that they protect professional athletes to the greatest possible extent. But we will do everything to get it done."