FA Cup fourth qualifying round: Cup heroes revisited, Houdini acts and a Barnet bus bonanza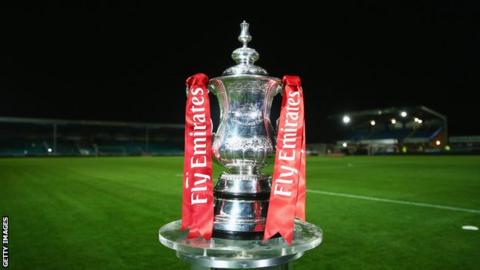 The holy grail of the FA Cup first round lies in wait, as 64 teams with hopes and dreams bid to put their name in the hat on Saturday.
From revived giant-killers to last minute escapologists, we look at some of the ones to watch out for in the fourth qualifying round.
Fond memories for Hitchin
Hitchin Town's FA Cup giant-killing memories fade with each passing year but the class of 2018 are hopeful they can create new ones.
The man behind the Hertfordshire side's run to the fourth qualifying stage - and the chance to make the first round for the first time in 23 years - is manager Mark Burke, who knows a thing or two about a cup run.
Burke was part of the Hitchin side that pulled off giant-killings against league clubs Hereford United in 1994 and Bristol Rovers the following year.
"We were like little celebrities," Burke told BBC Sport. "The media exposure was brilliant, it put the town on the map and it was unbelievable.
"I am on to the lads now, trying to tell them - you will want to taste this."
So has he dug out the old VHS to show his players?
"Well, I didn't need to because it's all on YouTube," Burke said. "It's actually clearer than my old video, so I must have played it too much.
"The lads have all seen the game. I've been manager here for six years and I have tried to base my philosophy on the team I was part of.
"We were mates. What I've tried to do is build an environment where the players play because they enjoy it, not because of the money. Which is good, because I don't have any."
Standing in their way of potential glory on Saturday are 1975 cup heroes, Isthmian League side Leatherhead.
Back in '75 - and led by the 'Leatherhead Lip' in striker Chris Kelly - the Tanners made it to the fourth round where they were 2-0 up against top-flight side Leicester City before being overhauled.
Regardless of what happens at the weekend, there has been much progress made on and off the pitch for Hitchin, who also reached the FA Cup first round four times during the 1970s.
"We've already made £30,000 on this run as we've had four home draws," said Burke. "The FA have doubled prize money so if we win we will get £25,000.
"It's great because we have an average gate of around 300-400, but I wouldn't be surprised if we got 600-700 as they're bringing a few coach-loads.
"The FA Cup has made the town come alive, they're talking about it, and hopefully they will buy into it."
Cup 'Houdinis'
St Neots Town have lived what you might call a charmed life so far in the competition, showing the kind of escapology that Harry Houdini would be proud of.
Just look at the Cambridgeshire team's run...
First qualifying round v Bishop Stortford - played for an hour with 10 men but made it through
Second qualifying round v Romulus - were 3-0 down but fought back to win 4-3
Third qualifying round v Coalville Town - 2-0 down with 10 mins left but drew 2-2
Third qualifying round replay v Coalville Town - 3-1 down after 89 mins but drew 3-3 and won on penalties
So which was the most impressive comeback?
"I think me and the manager were halfway on to the pitch when the fourth goal went in against Romulus. It was one of the best moments I've had since being involved in the game," St Neots assistant manager Jack Cassidy told BBC Sport.
"It's the stand-out one in terms of pure emotion - a tale of why we're all involved in football.
"But against Coalville at 3-1 down in the 89th minute I was thinking 'this might be a bit much now', because I couldn't see where a goal was coming from."
St Neots are expected to bring their biggest ever away following to sixth-tier Alfreton Town, who may want to wait until the final kick of the tie before daring to take a lead.
A whole new ball game
Warrington against Halifax was once such a hot ticket that in 1954, more than 100,000 turned up at Odsal in Bradford to watch. It was a world record - for rugby league that is.
The attendance at Saturday's FA Cup tie between seventh-tier Warrington Town and National League Halifax Town might struggle to match such heights... but it does have form.
Halifax's visit to Cantilever Park in March 2010 set a then-league record attendance of 500.
Evo-Stik Premier side Warrington have enjoyed cup success as recently as 2014, when they beat Exeter City 1-0 to reach the second round but subsequently lost to Gateshead.
If the home support can generate an atmosphere like the one which greeted Exeter, there could be another shock in the offing.
Barnet bus bonanza for Braintree
Hakan Hayrettin's return as fifth-tier side Braintree Town's caretaker manager - about 18 months after he was sacked following relegation from the National League - has not been met with universal approval, particularly after promotion-earning boss Brad Quinton was shown the door.
However, the 48-year-old is slowly starting to rebuild bridges with an impressive 2-2 draw at big-spenders Salford City, and also by paying for fans to travel to Barnet for Saturday's FA Cup tie.
To add extra spice, Hayrettin was part of Barry Fry's Barnet side along with Gary Bull, Carl Hoddle and Andy Clarke in the late 1980s and early 1990s.
"It's a big game for us and it'd be great to see as many fans there as possible," Hayrettin said.
Local pride and lengthy journeys
With the competition regionalised at this stage, the chances of being paired with the 'nearest and dearest' are increased, and guess what? Some hit the derby jackpot.
Up north, there is a Gateshead derby which will be streamed live on the BBC Sport website, with the National League side travelling to Dunston UTS. Ninth-tier Dunston are the lowest-ranked team left in the competition.
Bets on the 'You're just a suburb in Gateshead' chants are off.
Across the Pennines, Stockport County welcome Altrincham - a tasty Greater Manchester tussle - while Merseyside-based Marine FC versus Salford City promises a Liverpool v Manchester United type affair, a coming-together of two clubs in the shadow of giants.
In the south, there's a West Country corker between Somerset rivals Weston Super Mare and Bath City.
In stark contrast, however, Taunton Town still have a 400-plus-mile round trip from Somerset, across country, to Billericay Town.
The only way is Essex, indeed.
Perhaps seeing the Billericay groundsman wearing this leprechaun outfit will cheer them up? Maybe not.
Meanwhile, West Midlanders Stourbridge will rue being placed in the northern group, as they have a 300-mile round trip to Guiseley in West Yorkshire.
Additional reporting by James Law.