Giorgio Chiellini: Juventus captain urges players to think more about second career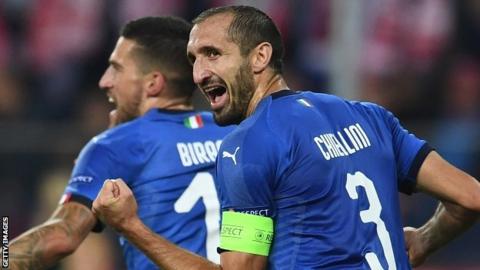 Juventus and Italy captain Giorgio Chiellini has urged players to think more about careers after football as he helped to launch a campaign led by the global players' union.
Chiellini, 34, has degrees in economics and business administration.
But only 13% of footballers have a higher education compared to 53% of men in Europe, says Fifpro.
"At 35 your career is more or less finished, then you have the rest of your life in front of you," he said.
"As a footballer, you need to start thinking about life after football at the beginning of your career, not at the end."
Chiellini, regarded as one of the best defenders in European football, has won seven Serie A titles with Juventus, but says studying has not been a distraction during his career.
"Studying helped me relieve some of the pressure in the world of football, and kept my brain sharp," Chiellini said. "If you are not sharp in matches you can't make the quick decisions that you need to reach the top level in football."
The "Mind the Gap" campaign is led by Fifpro and co-funded by the European Union's Erasmus+ Program, with player development managers set to be appointed at several player associations to help footballers prepare for a second career.
In women's football, players tend to be more prepared, according to Fifpro. About 46% of active female professional players are studying for another career, and 67% already have another job.
But Chiellini added: "Only a few players manage to find a job in football. There's also the risk of depression, and there are many former players with financial problems because they have not thought about what they are going to do. They have not opened their minds by studying.
"Each footballer has different tastes, but the important thing is to do something."