West Bromwich Albion: Which is the best way forward for Baggies to win promotion?
Last updated on .From the section West Brom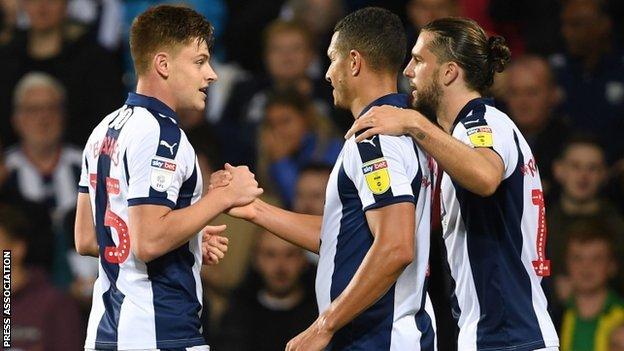 There are essentially two philosophies to winning football matches on a regular basis - scoring more than the opposition, or simply conceding less.
At The Hawthorns over the past two decades or so, they have seen both extremes.
West Bromwich Albion have won promotion to England's top division four times since the birth of the Premier League in 1992.
The first two times they did it, it was a rather more battle-hardened, less attractive way under Gary Megson in 2002 and 2004 - each time with current boss Darren Moore as a defensive colossus.
But when they again performed the feat twice in three seasons under Tony Mowbray in 2008 and Roberto di Matteo in 2010, they did it with a bit more abandon, each time scoring almost half as many more goals in a 46-game season as they had under Megson.
And, so far, it is not hard to see how Albion are shaping up in their bid to get back to the top flight under Moore. It really does looks like it is going to be a rollercoaster ride.
One minute, at the highest ground in the country, the Baggies fans were feeling high again, drooling over 19 goals in the space of five home games. The next they were feeling ominously low, gnashing their teeth with frustration after taking one point from a possible nine.
"Such are the demands of this league, you really are tested as a head coach," said Moore.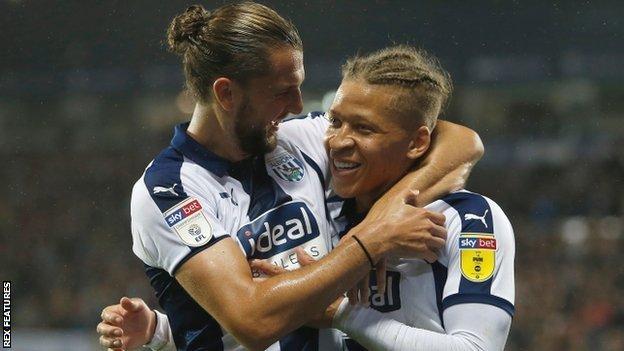 In their first 15 league games, Albion have plundered 33 goals - more than the 31 they managed last season in an entire 38-game Premier League campaign.
But it is the 23 they have conceded - especially the four they shipped at home to Frank Lampard's Derby on 24 October - that most worry their fans.
Only four other Championship sides have leaked as many goals this season and, after a winless week in which Albion twice missed the chance to go top, already there are question marks - largely over the Baggies' tactics.
Three at the back once worked for Moore in his Albion playing days, alongside Phil Gilchrist and Larus Sigurdsson. It worked when the club had defenders of the aerial ability of Jonas Olsson, Jonny Evans and Gareth McAuley.
But is it working now? Some concerned supporters suddenly do not think so, and the worries are that playing too cavalier an attacking style going forward can leave them exposed at the back.
Albion's previous promotions
| Season (manager) | Record | Goals | Top scorers |
| --- | --- | --- | --- |
| 2001-02 - Gary Megson | 46 games, 27 wins, 89 pts (2nd) | For 61 Against 29 | Dobie 11 |
| 2003-04 - Gary Megson | 46 games, 25 wins, 86 pts (2nd) | For 64 Against 42 | Hughes 11, Hulse 10, Koumas 10 |
| 2007-08 - Tony Mowbray | 46 games, 23 wins, 81 pts (1st) | For 88 Against 55 | Phillips 22, Bednar 13 |
| 2009-10 - Roberto di Matteo | 46 games, 26 wins, 91 pts (2nd) | For 89 Against 48 | Dorrans 13, Brunt 13, Bednar 11 |
| 2018-19 - Darren Moore | 15 games, 7 wins, 25 pts (5th) | For 33 Against 23 | Gayle 8, Rodriguez 8 |
In eight straight seasons in the Premier League, it was mostly about survival for Albion. And often, especially during the reign of Tony Pulis, that battle against survival simply became played out in too dour a fashion to satisfy their fans.
It was the fans' disaffection with Pulis that preceded the downturn in results, which led to his removal in November 2017, followed by unwanted headlines on and off the pitch under Alan Pardew and ultimately relegation.
Pardew's sacking on 2 April and Moore's appointment as caretaker boss came too late to do anything other than restore spirits throughout the whole club.
The Albion fans love the man they call 'Big Dave'. "If only he had replaced Pardew a bit sooner," they said. It all led to a summer of hope.
And if bringing in Dwight Gayle and Harvey Barnes on loan and keeping hold of Jay Rodriguez were Albion's key moves on the player front this summer, just as vital for Albion boss Moore was bringing in a trusted number two - and he has just that with Graeme Jones.
'We couldn't play that way any more' - Jones
Moore's former Doncaster Rovers team-mate was lured to the West Midlands following more than a decade's service as number two to Roberto Martinez at Swansea, Wigan, Everton and the Belgium national team.
"Culturally, I know what's gone on in the last four or five years," Jones told BBC WM. "In order to move forward, we couldn't play that way any more.
"We're West Brom - one of the biggest, if not the biggest side in the Championship. We needed a new style and shape. You have to score goals and win football matches.
"What did Wolves get last season? 99 points? Draws are sometimes good results in the Premier League. In the Championship, they're not.
"I believe in having different shapes and different systems. We had three at the back with Belgium. At Wigan, we won the FA Cup playing with a back three. We even played a back three at Everton once or twice.
"In the World Cup, it was slightly different. We had two number 10s. Here it's two strikers and a number 10. But, whatever system you play, you need a strong team and good players."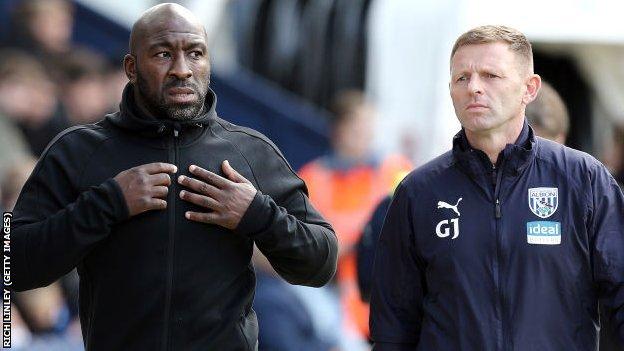 Gateshead-born Jones, 48, said the timing was right to move on after the end of Belgium's World Cup venture, which was at the same semi-final stage as England's exit.
He continued: "I had an offer from Roberto to stay with the national team, but I saw the end of that particular road. For me, it was never going to get any bigger than a World Cup semi-final.
"There's only one game that's bigger in the world and I was lucky enough to win a bronze medal. You have long periods of doing nothing but scouting, but I missed day to day coaching. I wanted to get back on the grass and back in the UK too.
"Darren and I first played together 23 years ago at Doncaster. We then didn't see each other but we always spoke. It just felt right and natural. We're very similar. We live for the game. It's not something we do 50% of the time. It's total commitment."
Albion's new direction off the park
Off the field, it has been a year of change at The Hawthorns.
First, Mark Jenkins returned as chief executive in February. He first joined Albion as finance director in 2002, then was chief executive for six years before stepping down when Guochuan Lai became owner in 2016.
But Jenkins returned when chairman John Williams and chief executive Martin Goodman were sacked by Lai in February, and Jenkins then brought in Luke Dowling as sporting and technical director on 26 September.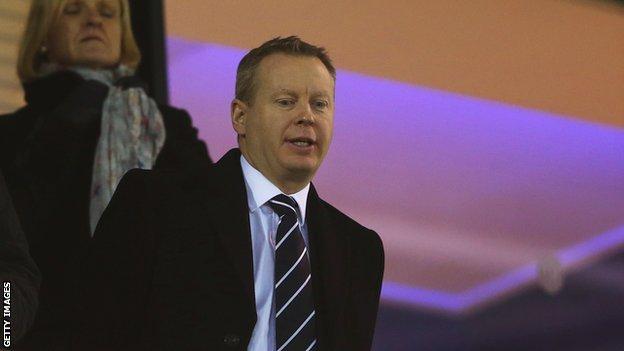 "Mark has seen what he built before and wants to get that going again," Dowling told BBC WM. "West Brom had a wonderful reputation a few seasons ago in terms of other teams who looked at West Brom to say 'that's how you run a football club'.
"A lot can look at the West Brom way and, if they copy it, they won't go far wrong."
For Dowling, it means simply trying to make the job as uncomplicated as possible for the head coach, as Albion's bosses prefer to call the man who picks their team.
"It's all about overseeing the football side," he said. "This role is becoming more popular with clubs. It takes as many things away from the manager as possible.
"The day-to-day stuff - just train the team, coach the team, pick the team and win games and leave the rest to us, with Darren having an involvement."
It is simple for Moore and Jones - just win games more regularly.
And remember that, in all of their previous promotion campaigns to the Premier League, Albion also had disappointing wobbles like their current one. And they came through them.
Graeme Jones and Luke Dowling spoke to BBC WM's Rob Gurney.