Togo deny Gambian claims over eligibility of defender Olufade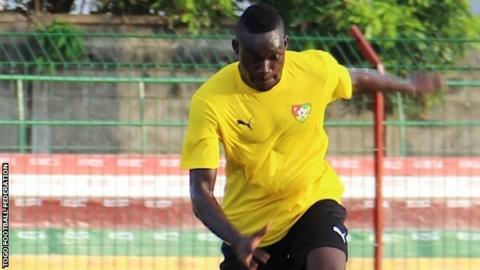 Togo's Football Federation denied they used an ineligible player in the recent Africa Cup of Nations qualifiers, after The Gambia formally complained to the Confederation of African Football (Caf) over Togo's use of defender Adewale Olufade.
Olufade, whose name is also written as James, played for Togo as they drew 1-1 with The Gambia on 12 October.
He was also on the team sheet for Tuesday's return match which Togo won 1-0, but did not take part in the game.
The Gambia Football Federation (GFF) protested that the player is Nigerian and does not meet the necessary criteria to play for Togo.
The letter from the GFF also highlights the discrepancies in his name.
"In the match form provided by Togo, his name is listed Adewale Olufade but in the Caf system he is registered as James Adewale Olufade and his date of birth as 21 August 1994," the protest states.
However, Togo's Federation have refuted The Gambia's claims and say Olufade is free to play for Togo.
"It is true that Olufade has a dual nationality but he has never played for Nigeria, for the Togolese federation to apply for a change of association to FIFA," said TFF spokesman Augustin Amega.
"He's well qualified to play for Togo. We do not worry about that," Amega added.
Under Fifa's regulations a player must fulfil one four criteria to play for a national team if he chooses to change nationality.
He was born on the territory of the relevant association;
His biological mother or biological father was born on the territory of the relevant association;
His grandmother or grandfather was born on the territory of the relevant association;
He has lived continuously for at least five years after reaching the age of 18 on the territory of the relevant association.
The 24-year-old has played club football in both Togo and Cameroon, he made his international debut in a 0-0 draw with Benin in September.