Jose Mourinho: Manchester United boss says he would love to sign Eden Hazard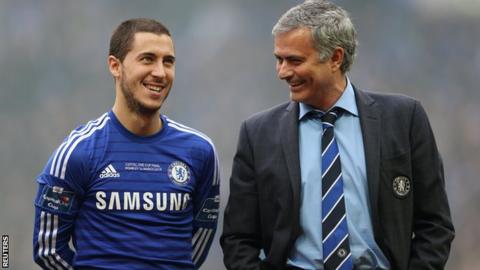 Jose Mourinho "would love" to sign Eden Hazard for Manchester United but knows it would be impossible because "Chelsea are led by intelligent people".
Hazard, 27, won the Premier League under Mourinho during the manager's second spell at Chelsea in 2015.
The forward had said he wanted to work with Mourinho again in an interview with Belgian newspaper HLN on Saturday.
"We had a good relationship, we were champions together, so I think the feelings are good," Mourinho said.
"History says that when Eden Hazard is the best player in the Premier League, Chelsea is the champion.
"It happened with me, it happened with Antonio [Conte, in 2017]. The season is still in the beginning of course but, if he is the best player of the Premier League until now, which I think he is, Chelsea is top of the league because he's the kind of player who can make a huge difference.
"I would love to have him in Manchester United but I don't think Chelsea will sell him to Manchester United.
"It's a non-problem because Chelsea are led by intelligent and experienced people in football and I think they would never sell Eden to Manchester United."
'United have best squad in league' - Sarri
United take on Mourinho's former club at Stamford Bridge on Saturday, with the Portuguese still under pressure to turn his side's season around after four wins from their first eight games.
Mourinho has previously said there is a "manhunt" against him.
However, Chelsea boss Maurizio Sarri said he believes United might have the best squad in the Premier League, and that Mourinho will win major silverware again.
"You are talking about one of the best coaches in the world, the results speak for him," Sarri said.
"I need to win if I want to compare myself to him. At the moment, it's not possible. I'm not at the moment one of the best.
"I think he will be able to win also in the future, because he is really one of the best. Maybe the best. The results are the best.
"At the moment I think Manchester City is better like a team, but player by player United are very, very strong, maybe the best in the Premier League."
Sarri also spoke about forward Eden Hazard's future at the club, as well as "disgusting" online abuse faced by Chelsea Women midfielder Karen Carney.
'He can win the Ballon d'Or here' - Sarri on Hazard
Belgium midfielder Hazard, 27, has previously been linked with a move to Real Madrid, but this week said he would not join the La Liga club in the January transfer window.
But he did say he felt he needed to join Real in order to win the Ballon d'Or - something his manager disagreed with.
"He's a fantastic player," said Sarri. "And so it will be very important for us if he will remain with us. Very, very important.
"I think also he can win everything - also the Ballon d'Or - here, without playing in Spain.
"For example, if Chelsea were able to win the Champions League and Belgium won the European Championship, he would be able to win everything without playing in Spain."
'It is not acceptable' - Sarri on Carney
England international Carney received death and rape threats on Instagram following Chelsea's Champions League win over Fiorentina on Wednesday.
The user has been removed from Instagram, with the Football Association saying it is "appalled" and "dismayed", and the threats have been reported to the police by the Football Association and Chelsea.
Chelsea described the abuse as "abhorrent and totally unacceptable".
"I have seen the last match against Fiorentina," Sarri said.
"She is a very good midfielder. What can I say about the situation? It is not acceptable. It's disgusting."