Champions League: Primeiro unhappy with conditions at Esperance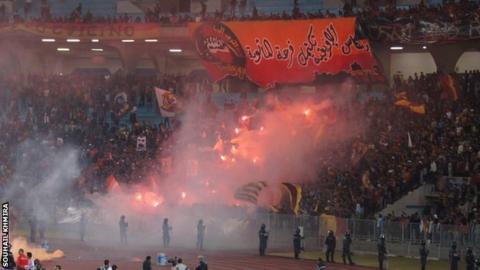 Primeiro de Agosto coach Zoran Manojlovic was very unhappy with the conditions for his side's loss in Tunisia in the second leg of the Africa Champions League semi-final.
Hosts Esperance beat the Angolans 4-2 on Tuesday evening and 4-3 on aggregate in a noisy hostile environment at the Rades stadium.
The Tunisian team will meet Al Ahly in November's two-legged final after the Egyptians beat Algeria's Entente Setif 3-2 overall.
Video footage shows flares and loud explosions going off throughout the match in Tunis leading to Manojlovic describing it as a 'terror film.'
"It was everything but not football, many things happening off the field, bombs exploding off the field, there was an invasion of the pitch 20 came onto the field," the Serbian coach told BBC Sport after the match.
"It is a shame for me it's a shame for the organisation - it's not like football it's like a terror film.
"I'd like to see someone responsible to look at the whole game and all the conditions of the game and take a decision.
"I'd like the responsible people of the Caf or the Fifa to see the game. Because it's not the game in the national league this is the semi-final of the Champions League.
"What happened here is a shame for football."
Geraldo extended Primeiro's 1-0 first leg lead after just nine minutes of the return in Tunis on Tuesday.
But hosts Esperance fought back to take a 2-1 lead into halftime, with a penalty from Youcef Belaili and a header from Mohamed Ali Yacoubi.
In the second-half The Angolans equalised on the night and went ahead again overall with a goal from Congolese forward Mongo Bokamba.
Esperance sealed their place in the final for a seventh time with goals from Haythem Jouini and Anice Badri to win 4-3 overall.