Antonio Rudiger: Football chiefs 'need to do more' on racism
Last updated on .From the section Football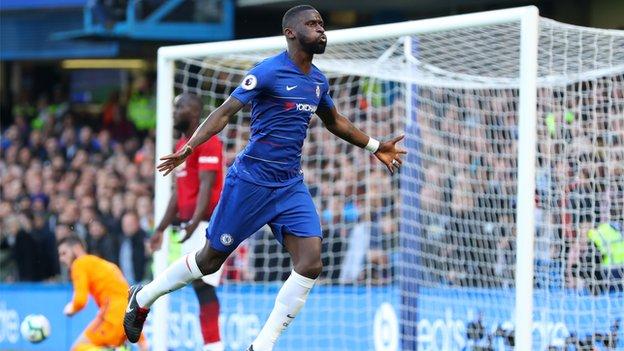 Chelsea defender Antonio Rudiger has called for football's authorities to give out harsher punishments to clubs whose fans are guilty of racist abuse.
Rudiger had "monkey chants" directed at him by Roma fans in Chelsea's 3-3 Champions League draw last year.
Uefa, European football's governing body, opened a case but did not not charge the Italian club.
"They need to do more, if they don't do more they're the same as the people doing it," Rudiger, 25, said.
"Maybe sometimes they think it's hard to punish their fans but at the end of the day, to me, it's a clear sign that you're accepting it."
Rudiger was also subject to racist chants from Lazio fans while playing for Roma in March 2017, prompting the stadium announcer to warn that the match would be interrupted if they continued.
"I dealt with that in my own way by keeping quiet and respecting Italian culture," said the Germany international, speaking at a Chelsea Foundation equality and diversity workshop.
"I can never say that I did wrong or misbehaved, that's what's important for me and that's how I carried on.
"Just because some idiots say things, I don't need to involve the whole of Italy in that, I like Italy and had a great time there but some people need to get punished harder."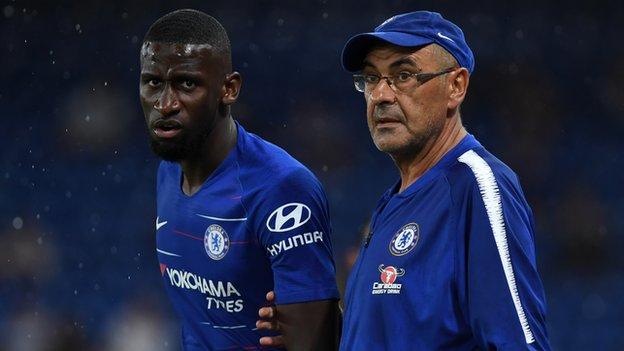 'Sarri is like a father'
Chelsea are thriving this season under Italian manager Maurizio Sarri, who replaced Antonio Conte in July.
Under Sarri, 59, Chelsea are unbeaten and sit third in the Premier League table, two points behind leaders Manchester City.
His 'Sarriball' tactics have seen Chelsea's defensive line move further up the pitch as part of a more aggressive, possession-based style of play.
"He's a perfectionist and he wants perfection," said Rudiger, who was signed by Conte for £29m in the 2017.
"That's what he wants at the end of the day, there is no perfection in life or football but we want to be as close to that as possible.
"Off the pitch he spreads jokes, he's like a father, he talks about normal things not just football but also life," added Rudiger, who said that Conte was "more serious most of the time".