Quiz: Name the Englishmen to start for non-British sides in the Champions League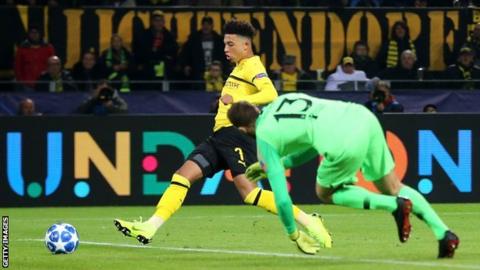 Jadon Sancho netted for Borussia Dortmund in their Champions League win over Atletico Madrid on Tuesday to become the first Englishman to score for a non-British team in the competition in 13 years.
Former England captain David Beckham was the last player to achieve that feat, scoring for Real Madrid against Rosenborg in November 2005.
It has been a great season for 18-year-old Sancho, making his first Champions League start last month and also winning his first England cap.
But Sancho and Beckham are among only 12 English players to have started Champions League games for non-British sides, according to data analysts Gracenote, so can you name the others?
Can you name the English players to have started for non-British teams in the Champions League?
| Rank | Hint | Answers |
| --- | --- | --- |
| 1 | | |
| 2 | | |
| 3 | | |
| 4 | | |
| 5 | | |
| 6 | | |
| 7 | | |
| 8 | | |
| 9 | | |
| 10 | | |