Barcelona v Real Madrid quiz: Can you name El Clasico squads from 2007?
Last updated on .From the section European Football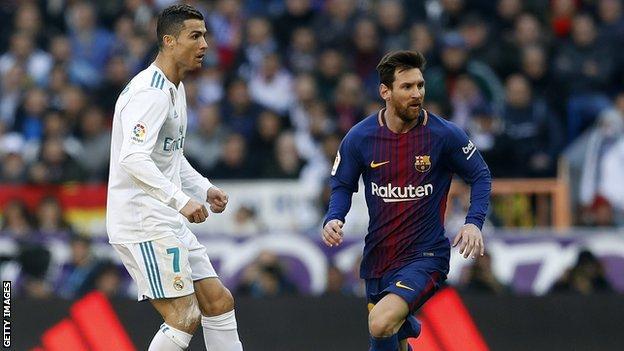 For the first time since December 2007, Sunday's El Clasico will feature neither Lionel Messi nor Cristiano Ronaldo.
Real Madrid won that game 1-0 at Barcelona's Nou Camp, with an ex-Arsenal man grabbing the winner.
But can you name both matchday squads? Including substitutes? Give it a go - there's a mix of superstars and other familiar names. You've got five minutes!
Barcelona v Real Madrid, December 2007 - name the players
| Rank | Hint | Answers |
| --- | --- | --- |
| 1 | | |
| 2 | | |
| 3 | | |
| 4 | | |
| 5 | | |
| 6 | | |
| 7 | | |
| 8 | | |
| 9 | | |
| 10 | | |
| 11 | | |
| 12 | | |
| 13 | | |
| 14 | | |
| 15 | | |
| 16 | | |
| 17 | | |
| 18 | | |
| 19 | | |
| 20 | | |
| 21 | | |
| 22 | | |
| 23 | | |
| 24 | | |
| 25 | | |
| 26 | | |
| 27 | | |
| 28 | | |
| 29 | | |
| 30 | | |
| 31 | | |
| 32 | | |
| 33 | | |
| 34 | | |
| 35 | | |
| 36 | | |