Club World Cup: Fifa delays decision with taskforce to look at plans

By Richard Conway
BBC sports news correspondent
Last updated on .From the section Football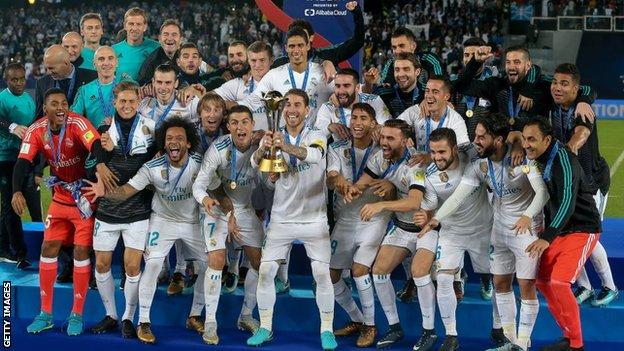 A decision on a new Club World Cup and Nations League has been postponed after Fifa set up a taskforce to examine plans for the two tournaments.
Uefa delegates threatened to walk out of the Fifa Council meeting in Rwanda on Friday if president Gianni Infantino had pushed for a vote.
"On the topic that heated some of the media, we have taken a decision to create a task force," said Infantino.
Fifa will its present findings at a council meeting in Miami in March.
The world governing body has proposed a revamped and expanded Club World Cup, held every year and featuring some of the Premier League and Europe's top clubs.
Uefa president Aleksander Ceferin and colleagues were said to be angry and frustrated at perceived "emotional blackmail" by Infantino to agree to the proposals.
Complaints centred on a lack of detail on football's calendar, the implications and an overall lack of consultation.
In official documents seen by the BBC, there are two options for an annual tournament, alongside the original plan for a competition every four years.
The Club World Cup is currently held every December and features seven teams from six confederations.
Earlier this year, Infantino proposed expanding it to 24 teams, including 12 from Europe, with the competition to be staged every four years.
Opposition to the plans from Fifa Council members - including Ceferin - resulted in talks being suspended shortly before the start of the World Cup in June.
Both options put forward would see the current Club World Cup and Confederations Cup abolished, with a new and expanded Club World Cup set up:
Proposal 1: Stage it in place of the Confederations Cup, an eight-nation tournament held in June the year before each World Cup.

Proposal 2: Same plan - but also including options for a yearly competition held either as a pre-season tournament in July to August or in another time slot.
In each case, the competition format, number of teams and division of places between each confederation are yet to be determined, but it will last a maximum of 18 days.
Fifa also wants to introduce a new global Nations League based on the format of Uefa's Nations League, which started in September.
The new Club World Cup and global Nations League would be projected to generate $25bn (£17.9bn) in revenue, with the investment coming from a consortium led by Japan's SoftBank,
But with Fifa facing scrutiny over potential financial links with Saudi Arabia, the documents outline how the organisation "would not enter into a joint venture for this purpose, whether directly or indirectly, with sovereign wealth funds of individual states".
Who is for and against?
In the documents, Fifa said that at meetings in April and May, leading European clubs agreed the Club World Cup needed to be revamped and expanded, and expressed a desire to play in the new competition.
It added that world players' union FIFPro was positive about a new Club World Cup, provided player health was considered.
However, the European Club Association (ECA), which represents Europe's biggest teams, has opposed the plans.
And the World Leagues Forum - which represents 38 professional leagues including the Premier League, La Liga and Serie A - also stated its opposition to changing the current format of the Club World Cup.