Wolves: The science behind Premier League newcomers' record-breaking start

By Jonathan Overend
Presenter, BBC Radio 5 live
Last updated on .From the section Wolves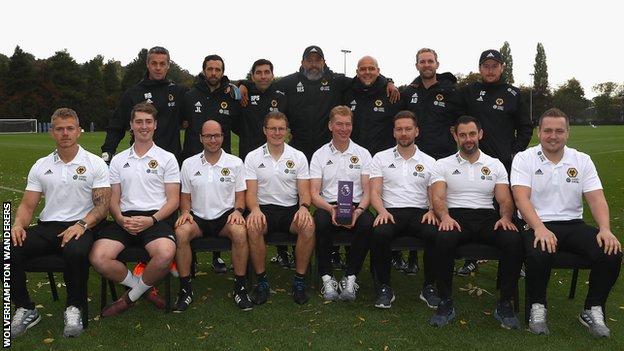 From collecting urine samples before training to administering regular eye tests, nothing about Wolves' record-breaking start to the season has been left to chance.
Never before have a Premier League team named the same starting line-up in their opening nine matches and it all comes down to attention to detail.
And it's paying off - the newly promoted side are ninth in the league and have picked up points against champions Manchester City and last year's runners-up Manchester United.
When head coach Nuno Espirito Santo posed for photos this month, having just been named manager of the month for September, he had plenty of company. Fourteen colleagues surrounded him. It was his idea.
The excellent teamwork on the pitch at Molineux is replicated behind the scenes and Nuno wanted his entire coaching team to share the prize.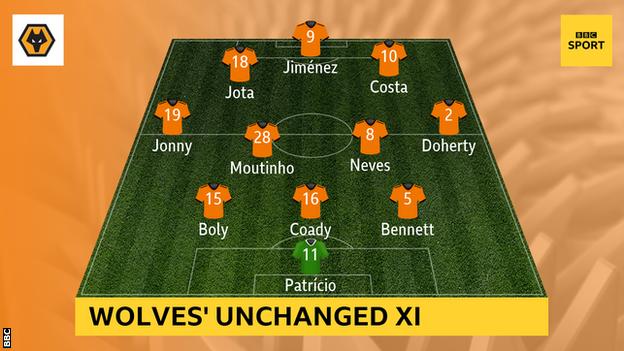 No stone unturned
On a behind-the-scenes tour for 5 Live Sport this week, I've had the chance to see first hand the work that has helped Nuno keep the same starting line-up in all nine matches.
An enormous amount of work is happening within the club's sports science and medical departments to keep everyone fresh.
"I want to try to enforce the idea of the team, because it's what we are. We want to make each other better every day and at every moment," head of fitness Antonio Dias says of the coaching and backroom staff.
"We have two close rooms - the physio room and the gym," adds his colleague Joao Lapa, "and we do our best to keep [the players] away from the physio and closer to us and the pitch!"
As with most professional sports operations, there are no stones left unturned at Wolves.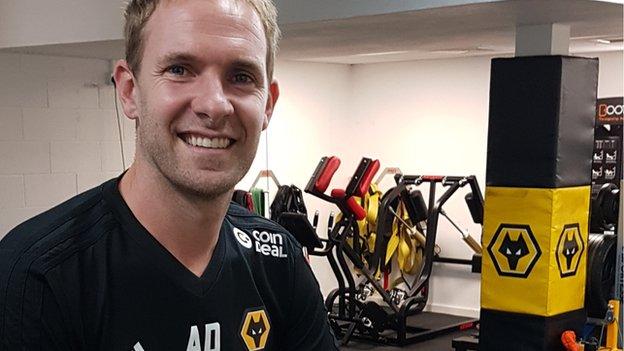 On a daily basis, Richard Kirby, first-team strength and conditioning coach, checks on hydration scores and nutritional fuelling.
The players provide urine samples before training and tests indicate which drinks are required as supplements if necessary, based on sodium and sweat-rate.
"A lot of the research suggests that dehydration can give not just mental discrepancies in terms of performance but also the physical fatigue and power outputs are decreased. Having small discrepancies in their hydration scores can have big impacts on the pitch," says Kirby.
GPS analyst Tom Male works for hours each day to assess the data churned out by the little pods the players wear in their training vests, such as distance covered, number of sprints and maximum speeds.
"The GPS unit spits out loads and loads of data about how much work they are doing on a daily basis," says Male.
"We'll analyse it, feed it back to the sports science team and the medical team and it may inform the amount of training they do the next day - for example, how much impact it's having on their mechanical loading so how it's affecting their movement."
A 'badge of honour' for the treatment room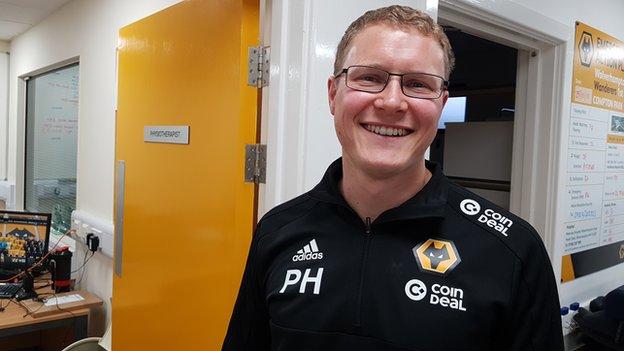 Then there's the programme to improve eye-related performance. Dias explains: "I think with football, almost all the input of information you have in your brain comes from your eyes. The eyes' performance is something we see as quite important."
It's perhaps no surprise that when I enter the treatment room at Compton, the benches are vacant. The consistent team selection since the start of the season is a badge of honour for Phil Hayward and his medical team.
But it doesn't mean players aren't visiting his unit. Far from it.
"Although we have named the same team, there have been times when players have had issues addressed during the week," says Hayward, a Wolves stalwart in his 11th season at the club.
"It might be they don't train the whole week and we have to modify training in some way so, for those players, we're having to work hard to make sure conditions are optimised for that session."
A proactive approach to injury prevention is common place at Premier League clubs, and Wolves is no exception.
"We do a full screen on all the players when they come back from pre-season," Hayward explains.
"We'll get a clear picture of how each player moves, what happens to each of their joints, and according to that we'll have a clearer idea of areas which may be exposed to certain injuries. We'll then put some programmes in place to help prevent those injuries."
The Wolves teamwork is obvious this season. But as Nuno brilliantly highlighted with the group award photo, a successful team stretches way beyond the big salaries and fast cars.
This is a football training ground packed with support staff at the absolute top of their games.
Jonathan Overend's exclusive behind-the-scenes report from Wolverhampton Wanderers will be on 5 Live Sport on Saturday 27 October from 12:00 BST.