La Liga game in Miami: Fifa Council opposed to the idea
Last updated on .From the section European Football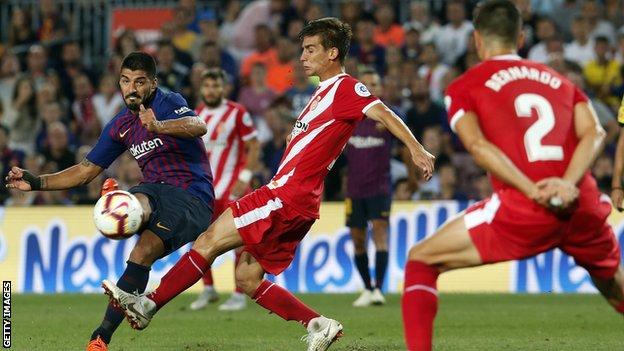 La Liga's hopes of holding a game in the US look unlikely after Fifa's Council said it is opposed to the idea.
The Spanish top flight wants Girona's home game against Barcelona to be held in Miami on 26 January.
But the move can not go ahead without the approval of the Spanish FA, which has consistently objected to the proposal, Fifa and two other bodies.
La Liga has told BBC Sport it will go to the Court of Arbitration for Sport if Fifa does block the move.
Football's world governing body has not yet formally banned the proposal.
A La Liga statement read: "Should we receive official notification from Fifa that they prohibit the match, we will take the case to the Court of Arbitration for Sport urgently."
One of the men behind the plan said earlier this month it may not happen.
American businessman Charlie Stillitano told BBC Sport they would need the Spanish FA's approval within two weeks to give them time to get Fifa, US Soccer and Confederation of North, Central American and Caribbean Association Football (Concacaf) to all sign the proposal off too. That was more than three weeks ago.
After the Fifa Council met in Rwanda to discuss an array of subjects, Fifa president Gianni Infantino said: "Following a request of guidance from the Spanish FA, US Soccer and Concacaf, the Fifa council discussed this matter - the proposal to host an official game of La Liga outside of Spain, Miami in particular.
"Consistent here with the opinion already expressed by football stakeholders committee, the council emphasised the sporting principle that official league matches must be played within the territory of the respective member association. So the council has very clear views on that."
La Liga, Spain's top division, agreed to play one game a season in the US as part of a 15-year deal with media company Relevent. Catalan neighbours Girona and Barcelona agreed to move their game, although the Spanish players' union (AFE) are among the other bodies to object to the idea.