Joe Lewis: Aberdeen keeper opens up on hopes & history ahead of Rangers tie

By Tom English
BBC Scotland
Last updated on .From the section Aberdeen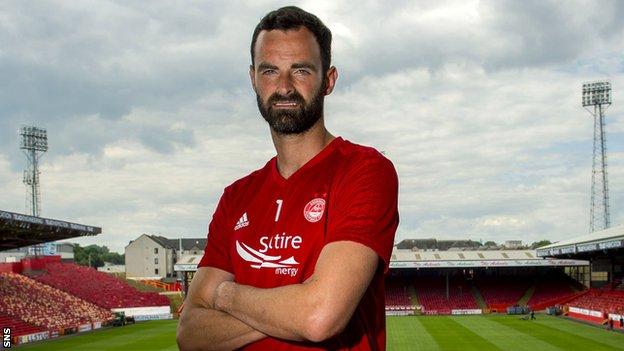 League Cup semi-final: Aberdeen v Rangers
Venue:
Hampden Park
Date:
Sunday 28 October
Kick-off:
16:30 GMT
Coverage:
Listen live on Radio Scotland & online; text commentary on BBC Sport website & app
Joe Lewis is staring at the walls of the Aberdeen boardroom, staring at the winners of the past and wishing he was one of them.
As good as life has been for the goalkeeper since his move to Pittodrie in 2016 - "I'm settled, I'm happy and I'm playing the best football of my career" - it hasn't been good enough to make the gallery of greats. "You don't get put up there for being second-best," he says.
Second-best in back-to-back leagues in his time and second-best in back-to-back Cup finals in his first season, but it's not Celtic blocking the path this time at Hampden, it's Rangers. And the prospect of it is exhilarating. The whys and wherefores of the tortured presumable are over and now we have a League Cup semi-final to savour on Sunday.
You couldn't call Lewis an expert on the frenetic history of Aberdeen versus Rangers, but the 31-year-old Englishman knows enough. He's played in the fixture nine times and says it's different to all others. "You do feel it. There's a hostility in this game that you don't get in any other game.
"I love the intensity. I've only won two of the nine, so that's something I want to improve on this weekend. You don't need to be an Aberdeen player for very long to know what this means to everybody. Put it this way, we're looking forward to it."
Lewis has been a terrific signing, a slender giant and a crowd favourite who found his way to Aberdeen via Norwich and Stockport, Morecambe and Peterborough, Cardiff, Blackpool and Fulham. He has a four-year-old son, Lenny, who has spent half his life in Aberdeen and is beginning to introduce some of the local dialect into his speech. His dad says this with a touch of pride. "I've got 18 months left on my contract and Lenny will probably be talking Doric by then."
'I had lunch with Steven Gerrard, a genuinely nice bloke'
In the Pittodrie boardroom he takes us back to the summer of 2008. He was 20. Fabio Capello's England had two friendlies to play - against the USA at home and Trinidad & Tobago away. David James and Joe Hart were the top two goalkeepers at the time but a third was needed. Injury ruled out one or two, so Capello sent for Lewis.
"I'd left Norwich by then and I was a Peterborough player and I was doing well," he explained.
"I never wanted to leave Norwich. I had a season ticket from about the age of seven and I sat on the first team bench at 15. They were my team. My family's team. My dad went everywhere following them. In the famous 1993 season when they did so well in the UEFA Cup, dad went to Bayern Munich and Vitesse Arnhem and the San Siro. I was happy there, but I was pushed out the door a little bit because Peterborough offered £400,000 and Norwich wanted the money.
"It really worked out at Peterborough and suddenly I'm in the England squad. I'm staying in training to go in goal for David Beckham's free-kicks. I'm sitting at breakfast and there's John Terry, Frank Lampard, Wayne Rooney and Rio Ferdinand. A few weeks before I'd been watching them playing against each other in the Champions League final. In situations like that you remember the senior players who come up to you and make you feel welcome.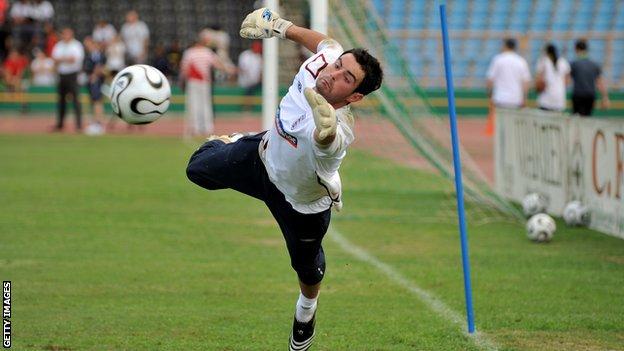 "I remember being disappointed with David James. He wasn't interested in talking to me. As the senior goalkeeper I thought he'd be welcoming, but he's a strange character. You never knew what was going on inside his head. One of the nicest guys was Steven Gerrard. I was sitting next to him at lunch and he was chatting away. A genuinely nice bloke. You're 20 and you're feeling a bit over-awed. You're feeling a bit lucky to be there, but Steven was really nice and you don't forget that."
Maybe Gerrard has, but Lewis certainly hasn't. He saw him a few years ago in Dubai and he was going to go and say hello, but Gerrard was mobbed by fans and he let the moment pass. You'd imagine Sunday is no time for reminiscences either. "Too serious for that," says the goalkeeper.
Lewis never got a cap, but he had 10 days in the company of icons and he loved it. He analyses what happened to him from there. The following season he struggled for consistency. He'd make three, four, five great saves and then he'd make a mistake and his confidence would take a hit.
"People looked at me and expected more than you can reasonably expect from a very young goalie. I was in the England U-21s with Joe Hart and I thought I was the best in my age-group until I saw him in action. Then I thought, 'I'm not as good as I think I am because this guy's an animal'. I wasn't as physically or as mentally developed as Joe."
'I'll wish Allan McGregor well in the tunnel'
After leaving Peterborough in 2012 he went to Cardiff and then Blackpool and then Fulham. He was looking for stability but couldn't quite find it until he fetched up at Aberdeen. At Pittodrie, the promise of his 20-year-old self started to be realised.
"Have I enjoyed it more because I've played better or have I played better because I've enjoyed it more? I don't know," he said.
"All I know is that I got off to a decent start with the fans and they've been very good to me ever since. I mean, in my fifth game [away at Maribor in the qualifying rounds of the Europa League] a back-pass bobbled in front of me and went over over my foot and into the net and we got knocked out, but I got a lot of support from the fans after that and I have a lot of appreciation for what they've done for me. I want to repay that as soon as I can."
Goalkeepers? He says it's true what they say; they're different. "I've come across some absolute loons who play in goal." He reckons that goalies sometimes feel that they're playing a different sport and it's that sense of isolation that unites them.
"In the tunnel before a game every player is standing there looking straight ahead, but the goalies always shake hands. Myself and Allan McGregor will shake hands on Sunday and wish each other well. You have that understanding. Your job is just different to everybody else's. If an opposing goalie makes a mistake I'll always make a point afterwards of mentioning a great save he might have made.
"If we score through a big goalie error, as much as I'm happy, I'll never really celebrate it. I'd be delighted we'd scored but I wouldn't go overboard at seeing another goalie's misery because you know exactly how they feel. You've been there, you've probably made that exact mistake they've made."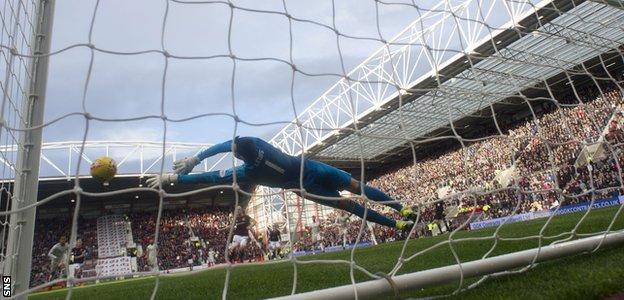 'I've heard about the history, now time to make it'
The Dons have not yet hit their stride domestically and are probably underdogs on Sunday. A win, of course, would change the landscape dramatically - and Lewis knows it. "We're not happy with where we are in the league [seventh] and we're not taking it easy and saying, 'It'll be fine'. We need to make it happen. It's been stuttery for various reasons and we need to get some momentum.
"We haven't hit our potential, but we've got big games coming up and there's time yet. We won't have the numbers we were hoping for at Hampden and there are a load of different reasons for that. Our fans make a huge amount of sacrifices to support the team over the course of a season so it's up to us to go down there and win for them.
"When you come here you learn about all the great Aberdeen teams, all the trophies. I've heard all about the history of the club. I just want to be a part of it and the only way that happens is by winning something."