Football betting levy should focus on saving lives, say anti-gambling campaigners
By Alistair Magowan
BBC Sport
Last updated on .From the section Football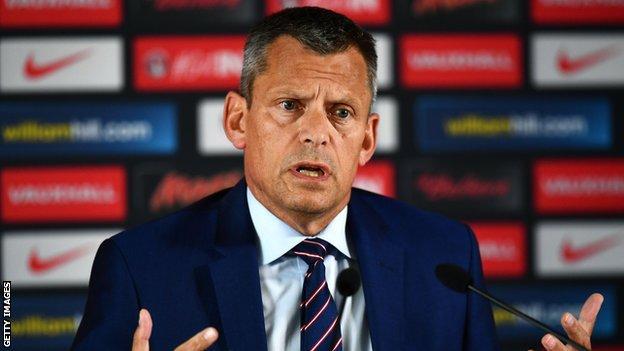 The proceeds of any levy on football betting should "focus on saving lives", say anti-gambling campaigners.
But campaign group Gambling with Lives said: "The priority must be to fund research and education to prevent suicides caused by gambling."
The Gambling Commission says there are 430,000 problem gamblers in the UK.
It also says a further two million are "at risk" and 25,000 young people aged 11-16 are addicted to betting.
Additionally, one UK study suggests 4% of suicides among 20-24-year-olds could be gambling-related, equating to 250 deaths each year.
Betting on football generates annual revenues of £1.4bn.
Gambling with Lives, a charity set up by families and friends of people who have taken their own lives as a result of gambling, want the government to place a 1% levy on the betting industry's gross profits, which would amount to £130m annually.
Founders Charles and Liz Ritchie, who lost their 24-year-old son Jack last November, added: "While many of the young men lost by Gambling with Lives families loved their football, we need to focus on saving lives rather than funding football."
Their calls were echoed by anti-gambling campaigner and Conservative peer Lord Chadlington, who says the UK is "on the lip of a gambling epidemic".
Last year, nearly three million people placed a bet on a football match, with 60% of Premier League teams and 17 out of 24 Championships featuring gambling sponsorship on their shirts.
In June 2017, the FA ended its sponsorship deals with gambling companies after it was criticised by former Manchester City and Burnley midfielder Joey Barton for its "dependence" on them despite also sanctioning players for betting on games.
Meanwhile, a recent Labour Party consultation paper has called for a ban on betting advertising for the duration of live matches on TV.
Lord Chadlington told BBC Sport: "I am very much in favour of a levy on the gambling industry. The current voluntary levy of just 0.1% raises under £20m a year.
"It is essential that the funds from a gambling industry levy go towards education, treatment and research as priority, particularly in light of the serious implications of gambling-related harm."