Graham Potter: Swansea boss ignoring Championship table
Last updated on .From the section Swansea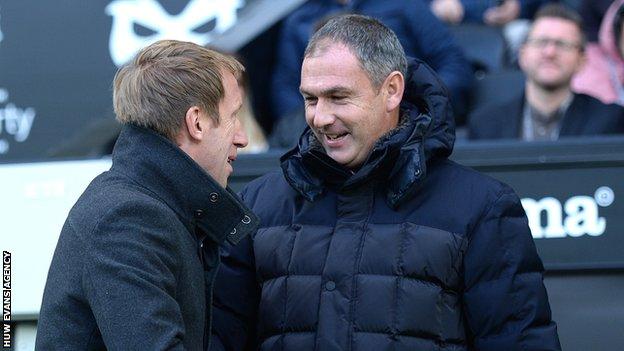 Swansea City manager Graham Potter says he is taking no notice of the Championship table despite his side's recent good form.
The Swans' 2-0 win over struggling Reading on Saturday was their second in a week.
It lifted them up to seventh place, two points away from the play-off spots.
Potter says he is ignoring the table "at this point because it keeps changing. We just have to keep improving".
He added: "It's nice for the supporters that we're starting to feel comfortable and confident at home, we've had to work at that.
"It's great for the supporters to have back-to-back wins."
Saturday's victory came courtesy of two goals by Oli McBurnie, who had not scored in eight games before Reading's visit to Liberty Stadium.
It was a miserable return to the ground for Reading manager Paul Clement, who was sacked by the Swans last season on their way to relegation from the Premier League.
The former Real Madrid assistant coach had steered the club to safety in the previous campaign, and he appeared to have rediscovered that survival instinct when he helped Reading preserve their Championship status last term.
Clement sees 'big change' at Swansea
But the Royals are now in the bottom three, and Clement's position may come under scrutiny following Saturday's defeat at his former club.
"It has been a big change since I was here over a year ago," he said.
"A lot of players have moved on, it is a much younger team which is nice for the club and I think it is a lot easier to do at this level than at the higher level.
"So in the long term that might help the club, but I was impressed. They played really well.
"Looking back now I enjoyed my time here much more than I thought.
"The first five or six months were just unbelievable, a fantastic time with some of those results.
"The win away at Anfield; coming here on 12 points and surviving was just a remarkable time.
"Obviously there is then the disappointment at what happened at the end because I was really sad about that.
"I know the Swansea fans asked me to give them a wave, but I didn't think it was appropriate, and you never know what they might do if you wave to them you might get a bit of abuse back.
"Then the song changed... predicting what was going to happen to me in the morning [the chant was 'You're getting sacked in the morning'] and then the Reading fans joined in. So there we go."