SWPL: Glasgow City beat Spartans to claim 12th title in a row
Last updated on .From the section Women's Football
Glasgow City secured a record 12th consecutive league title with a straightforward 4-2 win over Spartans.
Strikes by Abbi Grant, Lara Ivanusa and Carly Girasoli and an own goal secured the win that ensured they finished three points clear of Hibernian.
"It is quite easy for people to talk about winning 12 on the trot as if it is something which happens every day," said head coach Scott Booth.
"It is lost how much of an achievement it is. I'm incredibly proud."
The Edinburgh side thrashed Rangers 7-1, but last weekend's defeat by City decided their fate.
Abi Harrison and Rachel McLauchlan scored hat tricks and Amy Gallacher also netted.
City head coach Scott Booth took over in the summer of 2015, taking the reigns from Eddie Wolecki Black and seeing out the league triumph, and since then he has added three more titles.
In SWPL 2, Aberdeen have been relegated despite thumping Hearts 4-1, having suffered a nine-point deduction earlier in the campaign for fielding an ineligible player.
Central Girls went down with them after losing 8-0 to Glasgow Girls, who escaped the drop.
How Glasgow City won the league
City may now be up to 12 league title in a row, but they had to produce almost a perfect league record to do it.
No domestic defeats, only two draws, yet the championship was essentially decided over 90 minutes on the penultimate day of the season when they beat their title rivals Hibs 2-1.
In the first half of the season leading up to the summer break, City played 12 league games, winning 10 of them. They scored 39 goals, conceding just five in four separate games to just two opponents; Hibs scoring three, and Spartans the other two.
Once they returned from their mid-season break, bolstered by their new recruits Lara Ivanusa of Slovenia and Bosnian striker Lidija Kulis, their goals-per-game ratio went from 3.25 to 4 across the final nine games of the season. They conceded another seven goals, but still managed four clean sheets.
In 21 league games, they hit six goals five times.
"To win twelve titles at a time when the game is stronger and stronger in Scotland and across Europe I think says something about the players and the club," said Booth.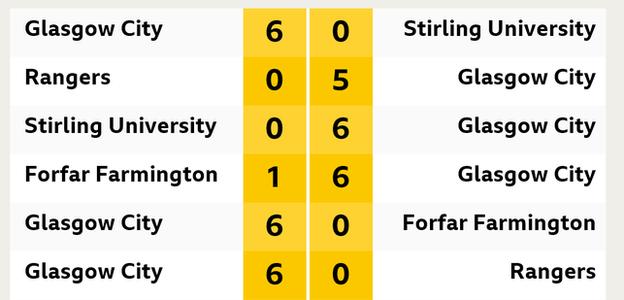 Hibs push City all the way
City against Hibs is now the defining rivalry in Scottish women's football. In five meetings this season, Hibs boasted two wins and two draws. But, in a curious twist, both those came in the cups..
While City have been dominating the SWPL season upon season, Hibs will win a sixth cup competition in a row should they beat Motherwell at Firhill next Sunday, and it will have been achieved having beaten City on the way every time.
Yet, while Hibs keeping beating City in cup games, they have not managed to beat them since 2007 in the league.
Grant Scott's side matched City point for point in the league campaign, also managing a 100% record outside the games with City. They lost one game all season, that 2-1 set-back to City ultimately costing them the title and a potential treble.
What has made it even more difficult for City this term was that vital domestic encounters straddled huge Champions League games, with City playing six games in Europe since August, with a seventh still to come on Thursday in the second leg of their last 16 meeting with Barcelona.
But the schedule did not derail their title bid.
Dominant City have a way to go...
No other Scottish team has won more than nine titles in a row, never mind the 12 that City now have. Yet, they are still playing catch-up with other clubs in Europe.
SFK 2000 Sarajevo are attempting to claim their 17th successive Bosnian title. And they would not even be the first team to do so, with Faroe Island's Klaksvik managing that feat in 2016.
Lyon, who have won the last three Champions Leagues, have won 13 French titles in a row.