Oli McBurnie: Swansea striker eager to repay boss Graham Potter's faith
Last updated on .From the section Swansea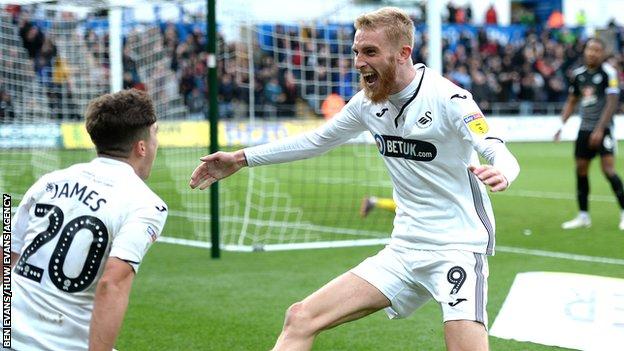 Oli McBurnie says he will always be grateful to manager Graham Potter for having the faith to make him Swansea City's main striker.
McBurnie scored both goals in the 2-0 win over Reading, ending a goal drought that stretched back to 1 September.
"There's not a lot of times you get a 22-year-old being the number nine for your club," said the Scotland forward.
That's the position I've found myself in and I just need to keep trying to repay the gaffer."
With the likes of Jordan Ayew departing following last season's relegation and Ivory Coast striker Wilfried Bony yet to play this season due to an Achilles injury, the burden of scoring goals has fallen largely on McBurnie.
"I think I'm one of the more experienced players in the dressing room now," said McBurnie, who has hit the back of the net six times so far this season.
"The gaffer has given me the opportunity and put the expectations on me, and it's down to me to make the most of the opportunity.
"It's been tough with the two Scotland games and then coming straight back into so many games with Swansea, it's been tough on my body but I'm working on that.
"I was very tired at the end [of the Reading game] but I'm getting there and I'll be there soon."
McBurnie's elevation has been helped by the close relationship he has developed with Potter.
"We had a good chat last week, for about an hour I think," said McBurnie, who has won six Scotland caps.
"We were supposed to be out training and we were still sat in his office speaking, but it's so easy to do.
"He's such an intelligent person and not only does he understand football but he understands people, which is massive.
"I've never had a manager care so much about me individually in terms of everything - not just how things are going on the pitch... but every single thing in my life.
"The emphasis he puts on that, he wants you to improve as a person as well as a player and for me I think it's exactly what I need. I'll always be grateful."