Barcelona 5-1 Real Madrid: Julen Lopetegui hits rock bottom in Clasico
By Patrick Jennings
BBC Sport at Nou Camp
Last updated on .From the section European Football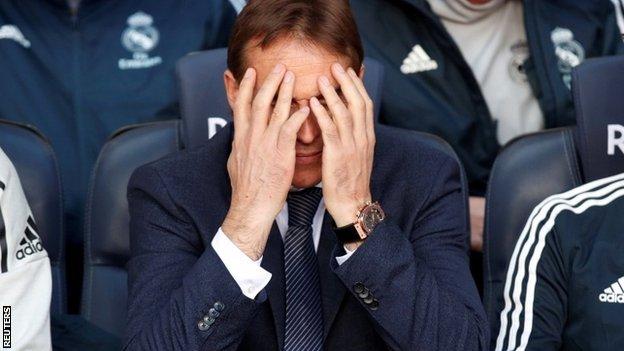 One YouTube comment sums it up perfectly: "I've come from the future Julen. Things don't work out well for you."
The message lies beneath a 16 May interview on popular Spanish chat show La Resistencia, in which Julen Lopetegui is feted for his impressive work in charge of a Spain team that, back then, was about to light up the World Cup.
Today he is the Real Madrid boss, but most likely for not much longer. After Sunday's humiliating 5-1 defeat by Barcelona, Lopetegui appears set to be sacked for the second time in four months.
This is the story of a startling fall from grace that began in bizarre circumstances, and hit rock bottom in Barcelona.
Nobody would have predicted the series of events that unfolded following that comfy sofa sit-down back on the brink of summer.
For starters nobody thought Zinedine Zidane would resign and leave Madrid needing a new manager, then nobody thought Lopetegui would end up replacing him, and then nobody thought his decision to do so would cost the national team their coach.
Just two days before the World Cup began, Lopetegui was fired by the Spanish Football Federation president Luis Rubiales, who claimed to be acting on a point of principle. He said Lopetegui had gone behind his employers' back in accepting the job at Madrid without informing him, although the club disputed this, and would not have his authority diluted.
Regardless of your opinion on Madrid's, Lopetegui's and Rubiales' handling of the situation, the decision came as a shock. Suddenly, Lopetegui would not be overseeing the culmination of two years' work on football's greatest stage.
Instead he would be taking charge of what many consider to be the biggest club in the world, having only failed outside the international game, at Rayo Vallecano in 2003, and at FC Porto from 2014 to 2016. Oh, and Cristiano Ronaldo, for so many seasons Madrid's talisman, would be sold to Juventus.
Despite all this, things did not start too badly for Lopetegui. When results went well, including a 3-0 win at home to Roma as the Champions League returned in September, his team's new style and the decision not to replace Ronaldo with a big name was hailed as emphasising and getting more out of the collective.
But there can be no arguments, results have not gone well since and it is now five matches without victory. Madrid have not started a season this badly since 2001.
The run began with a 3-0 defeat at Sevilla, continued with a 0-0 home draw with city rivals Atletico Madrid, a 1-0 defeat away by Alaves, a 2-1 loss at home to Levante, and now this crushing blow at the hands of their most bitter rivals.
That the result of El Clasico defines managers' times in charge of Madrid is not necessarily true - Jose Mourinho survived a 5-0 home defeat in the first of his three seasons, for example.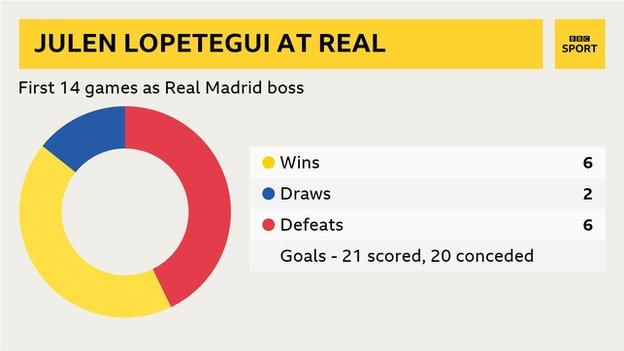 But Rafael Benitez's fate was considered all but sealed after a 4-0 thrashing in November 2015 - he was sacked two months later - while Bernd Schuster was fired two days after saying it would be "impossible" to beat Pep Guardiola's Barca of autumn 2008.
No doubt Lopetegui can take some solace from the reported 18m euros (£15.9m) he will be owed if his contract is terminated. This startling figure is said to have been included because Madrid president Florentino Perez's hand was forced after several of his preferred targets turned him down.
It is a position of comfort if not strength that might help explain his combative appearance before the media in Saturday's pre-match news conference. On Sunday at the Nou Camp he was repeating the same message.
"I feel sad but I want to remain in charge," he said.
"It's a big blow but I'm strong enough to know everything can be turned around. I have a lot of faith in this group of players."
You have to admire his optimism, speaking minutes after watching his team crumble in the one match that matters most.
But whereas on Saturday there was power, a defiance behind similar words, 24 hours on it was difficult to frame his image in anything other than more desperate terms.
It is his face around which the result of this Clasico match now crystallises - the Clasico that had to make do without Lionel Messi and Ronaldo, and managed it pretty well.
There is a key difference of course in their respective absences. Messi will return to Barca after he recovers from a broken arm, Ronaldo will not return to Madrid.
Reports before this weekend named former Chelsea boss Antonio Conte and Manchester United's Mourinho as Los Merengues' preferred options to lead them forward from this awkward position.
And speculation after Sunday's match focused in on Italian Conte, with several media outlets stating Madrid would make the decision everyone expects them to on Monday and fire Lopetegui, a man who four months ago could do no wrong.