Paul Pogba: Man Utd midfielder takes 26-step penalty against Everton
Last updated on .From the section Man Utd
It brought back memories of Simone Zaza's bizarre penalty miss for Italy at Euro 2016.
Paul Pogba's eventual goal in the victory over Everton came after a staggering run-up which took 26 steps. His penalty was saved, but he stuck in the rebound.
On social media Jordan Elgott pointed out that Pogba's little trot from start to finish took more time than Jamaican sprinter Usain Bolt takes to run 100m.
"I was lucky," Pogba said after the game. "The important thing is it went in and I scored the goal - good for us and me. After we carried on and had other chances, the most important thing was the win."
Big run-ups with little steps have become a trademark of Pogba's penalties.
Here is a look at his penalty stats for this season:
Pogba has taken a total of 92 steps across his five penalties this season - that's an average of 18.4 steps per penalty - and seen two of them saved.
So is it time to change the technique and go for a more conventional run-up?
Pogba said: "I always try to destabilise the goalkeeper. Maybe they know how I take penalties. Maybe I should practise to change it, if the keepers know my step."
France World Cup winner Pogba and manager Jose Mourinho have had a difficult relationship this season, but the Portuguese backed his player despite the miss.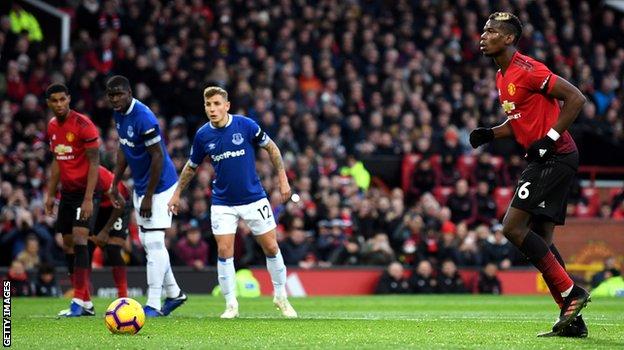 Mourinho said: "The thing I like is the desire to take it. I don't like Mickey Mouses, fragile players who are afraid and go: 'I don't take penalties.' I don't like that.
"I like the player who says, 'I want to take it' like the Crystal Palace player Luka Milivojevic. He missed against Everton and today they get two penalties [against Arsenal] and he wants to take.
"Paul is like that. Can he improve? I think he can. The goalkeepers know his running, they don't move and they are waiting until the last second for his decision so he has to learn from that but for me the most important thing is he wants to go again."
United full-back Ashley Young added: "If he is going to score that's all that matters. He can take 62 steps if he wants. That is his technique and if he scores that is all that matters."
Even United team-mate Luke Shaw saw the funny side...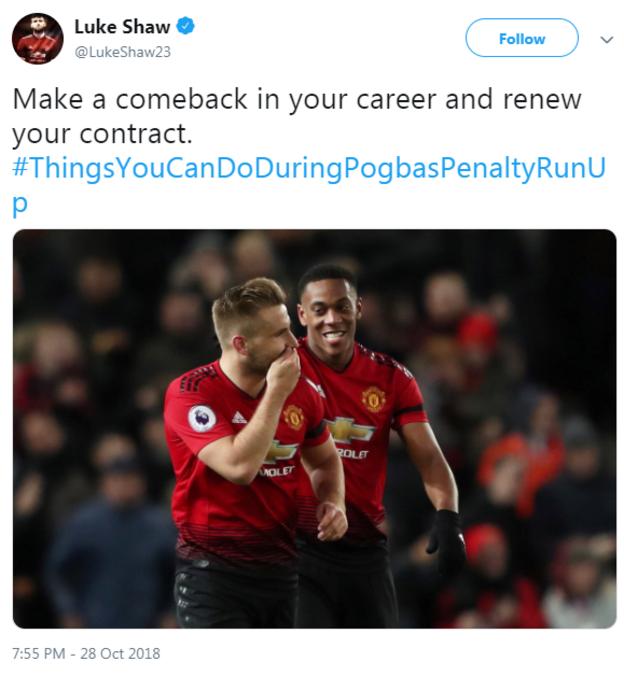 And here is what some of you said on #bbcfootball: