Seven loan lessons as Derby's Mason Mount and Fikayo Tomori prepare to face parent club Chelsea
Last updated on .From the section Chelsea108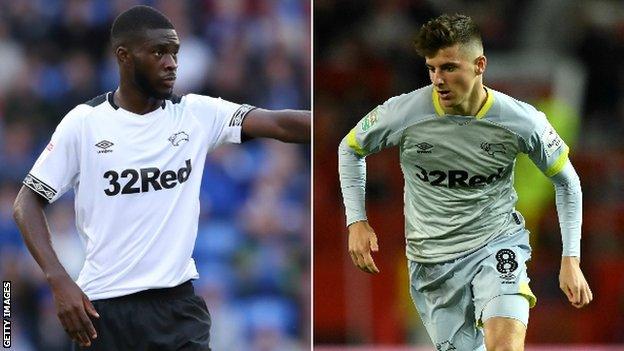 On Wednesday, Mason Mount and Fikayo Tomori face the curious case of playing against the club who employ them.
Both are on loan at Championship side Derby County from Chelsea, who meet in the Carabao Cup fourth round, and - if selected - can play at Stamford Bridge.
Players out on loan cannot face their parent club in Premier League matches - more of which later - but they can do in English Football League competitions, provided permission is given, and that is what Chelsea have done.
Chelsea say the experience of "facing top-level opposition" will benefit 19-year-old midfielder Mount - called up to the England squad earlier this season - and defender Tomori, 20.
Derby boss Frank Lampard, Chelsea's all-time leading scorer, called it a "classy" move.
"I am really pleased for these young Chelsea lads who have come through the system and whose dream it is to play at Stamford Bridge," said Lampard.
"I have to completely say thank you to Chelsea because it was their call, their decision. I think they have seen the bigger picture in terms of what a great experience it will be for their players."
But will the decision come back to haunt the Premier League club? Here are seven lessons they may have learned from previous loan escapades.
1. Loan sharks can strike early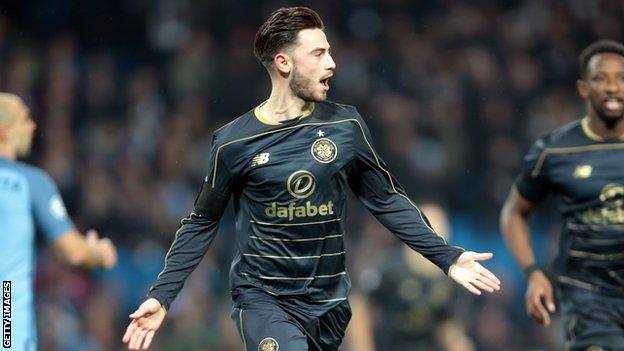 Mount and Tomori will no doubt feel they have a point to prove against their parent club, just as Patrick Roberts did when sent on loan to Celtic from Manchester City.
When the Scottish champions faced City in the Champions League group stages in December 2016, Roberts took all of four minutes to score a smart solo goal at Etihad Stadium.
City were already through and Celtic eliminated, but the winger had no qualms about celebrating his effort in 1-1 draw.
Will Mount and Tomori celebrate if they net against Chelsea? Well, why not?
2. It can happen to Europe's biggest clubs
Five years and three Champions League winners' medals into his Real Madrid career, Fernando Morientes found himself playing back-up at the Bernabeu to Brazil striker Ronaldo - the latest addition to the Galactico pack in 2002.
Come the 2003-04 campaign, he opted for a loan move to Ligue 1 side Monaco, helping them to an unlikely spot in the Champions League final and finishing as the competition's top scorer with nine goals.
Two of those came against his parent club in the quarter-finals.
Real were not fazed by Morientes' first, a late header in a 4-2 defeat at the Bernabeu, but it proved crucial as Monaco staged a dramatic comeback at Stade Louis II to win 3-1 and go through on the away goals rule, with the aggregate score 5-5.
The Spaniard set up Ludovic Giuly, who scored twice, and also scored himself as Monaco progressed, losing to Jose Mourinho's Porto in the final.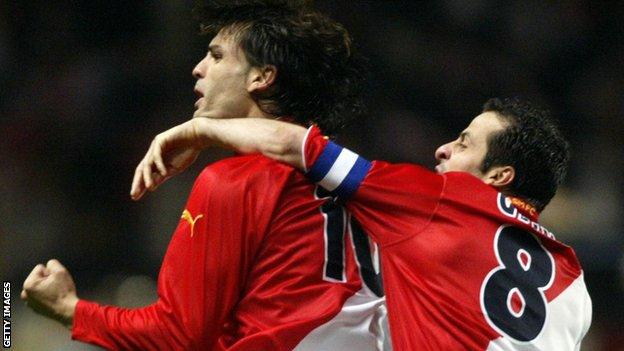 3. Learn from your mistakes
The Morientes saga might have prompted Real Madrid to limit the chance of a repeat scenario, but 14 years later, they almost got bitten again.
Real agreed a fee of up to £71m with Monaco for World Cup Golden Boot winner James Rodriguez in 2014, but after three stuttering seasons, the Colombia playmaker was shipped out on a two-year loan to Bayern Munich.
Predictably, Real drew the German giants in the Champions League semi-final, with Rodriguez setting up Joshua Kimmich as Bayern slipped to a 2-1 home defeat in the first leg. He went one better at the Bernabeu, netting Bayern's second goal.
Rodriguez refused to celebrate his effort and thanked fans for the "ovation" he received in Madrid, with Bayern ultimately beaten as Zinedine Zidane's Real secured a 2-2 draw to reach the final.
And talking of learning from your mistakes...
4. Fool me once...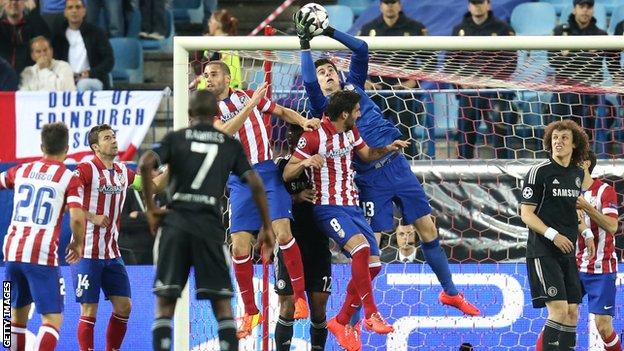 Wednesday's Carabao Cup tie will neither be the first nor the most high-profile case of an on-loan Chelsea player lining up against their parent club.
After joining Chelsea in 2011, goalkeeper Thibaut Courtois spent three seasons on loan at Atletico Madrid, playing three times against the Blues in Europe - starting with a 4-1 Super Cup win in 2012.
However, it was Courtois' role in the Champions League semi-finals the following season that sparked much debate. It also led to Uefa overruling an agreement in the loan deal that would have required Atletico to pay Chelsea a reported £5m fee to allow him to feature in both legs.
Uefa said any private contract between clubs which might influence player selection was "null, void and unenforceable", so Courtois played, and played well, as the sides drew 0-0 in Madrid before stunning Jose Mourinho's side with a 3-1 win at Stamford Bridge to reach the final.
5. Super subs pose a threat
Bayern Munich have done pretty well out of long-term loan deals for some of the world's top young talents. Before Rodriguez, there was Kingsley Coman.
The French winger joined the Bundesliga side on a two-year loan from Juventus in August 2015 and faced the Italians later that season in the Champions League last 16.
Both legs finished 2-2 after 90 minutes - meaning extra time. After Thiago Alcantara had edged Bayern ahead, 19-year-old Coman put the tie beyond his parent club with a fourth goal.
Mount has scored twice in three Carabao Cup rounds so far, as well as netting from the spot in the penalty shootout out victory at Manchester United last time out.
The England youth international is an fitness doubt for Derby's trip to Stamford Bridge - perhaps he'll pose a threat from the bench instead?
6. The LuaLua Rule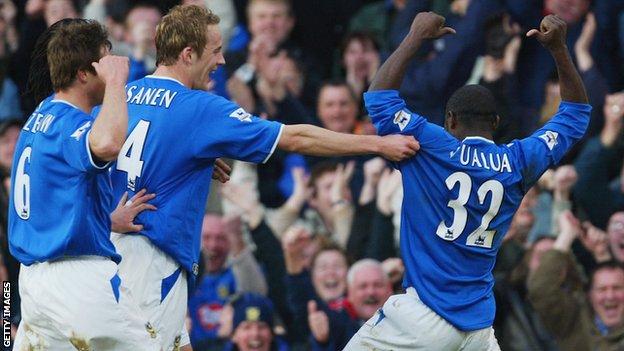 A lot of 'ifs' here, but should Derby County get promoted and Mount and Tomori head back to Pride Park on loan, then they would not be able to feature against Chelsea in the Premier League.
The reason? Lomana LuaLua.
Having failed to find the net for Newcastle all season, the Congo winger was sent on a 90-day loan to Harry Redknapp's Portsmouth in February 2004. However, Newcastle failed to include a clause saying LuaLua could not play against them.
Less than a month after his loan move, he volleyed in an 89th-minute equaliser in a 1-1 draw with Newcastle, whose manager Bobby Robson bemoaned that "one of our players" had scored against his side.
LuaLua celebrated by somersaulting across the pitch before pointing to the name on the back of his shirt and ripping it off.
He did apologise to the Newcastle supporters, but added he was glad to be "somewhere where someone wants me".
It led to a change in FA and Premier League legislation, meaning on-loan players could not play against their parent clubs in league fixtures.
7. Don't 'ruin' a country's national team
At least the Derby loanees are unlikely to face the sort of backlash that greeted South Korea's Ahn Jung-hwan when he scored the winner against Italy in the last 16 of the 2002 World Cup.
Ahn was on loan at Serie A side Perugia from South Korea's Busan Daewoo Royals and, with Italy's World Cup exit sparking outrage back home, was cast as the villain.
Perugia chairman Luciano Gaucci told Italian newspaper La Gazzetta dello Sport: "That gentleman will never set foot in Perugia again." He added that he "had no intention of paying a salary to someone who has ruined Italian soccer".
Gaucci then bizarrely backtracked and tried to take up the option of signing the forward on a permanent basis, but Ahn rejected, saying the club "attacked my character".