James McArthur: Crystal Palace midfielder retires from Scotland duty
Last updated on .From the section Scotland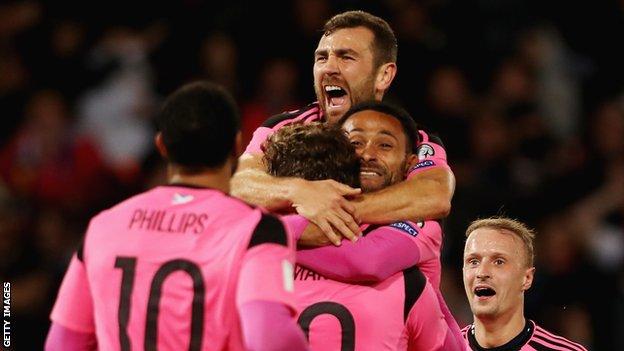 Crystal Palace midfielder James McArthur has retired from Scotland duty as he thinks it is the only way he can "continue to play at the top level".
The 31-year-old won the last of his 32 caps almost exactly a year ago.
"I have found it increasingly difficult over the last year to manage a number of physical issues," he said.
Before Scotland's summer trip to face Peru and Mexico, McArthur had asked to be excused duty until the new year while he managed a back problem.
He signed a new Palace contract last month, his deal taking him to the summer of 2021, and has played in 10 of the Premier League club's 12 fixtures this season.
But he has now announced, through the Scottish FA website, that "it is with much regret" that he will not be making himself available again to head coach Alex McLeish.
"I am extremely proud to have been selected to represent my country on 32 occasions," the former Hamilton Academical and Wigan Athletic midfielder said.
"I have debated long and hard about this decision and I feel the only way for me to be able to maintain my fitness in order to continue to play at the top level is to retire from international football."
McArthur made his debut against Faroe Islands in 2010 and scored the last of his four international goals in a 3-0 victory away to Lithuania in the 2018 World Cup qualification campaign.
McLeish said: "We will miss James, but we fully respect and understand his need to manage his body as he approaches the latter stages of his career.
"I know that James had his heart set on reaching the coveted 50-cap mark, so for him to retire from international football must have been an extremely difficult decision to make."
Fellow midfielder Scott Brown, the Celtic captain who also wore the Scotland armband, ended his career for similar reasons in February.
'Another good player Scotland can't select' - analysis
Hamilton Academical manager and former team-mate Martin Canning
"He was something else in terms of commitment and drive, endeavour, enthusiasm - everything you need to get to the top level.
"He's probably one of the most professional, hard-working players that I've come across and deserves everything he's got out the game because nobody puts in more than James.
"I don't know what his reasons are, but it's another good player Scotland can't select.
"When you watch the Crystal Palace games, he's always consistent, always does well and that's at the top, top level."
Scotland assistant coach James McFadden on BBC Radio Scotland's Sportsound
It is a big blow. He's come up with some big goals over the years for Scotland, some good performances.
He's an experienced played. We have some young players. I've spoken about the need for experience to help the younger ones.
He's getting to an age now where his body's telling him that he can't do what he used to be able to do and it's not a nice feeling.
I totally understand the fact that he wants to prolong his career as long as he can.