Maurico Pochettino: Tottenham manager enduring 'worst feeling' as club's manager
Last updated on .From the section Tottenham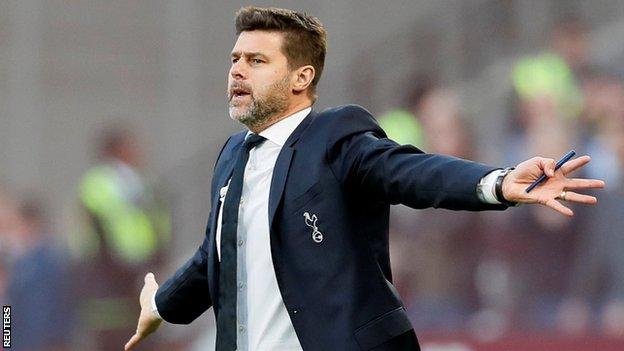 Mauricio Pochettino says he is enduring his "worst feeling" as Tottenham boss this season, despite guiding them to their best Premier League start.
Spurs have 21 points from their opening nine games and will go above Manchester City if they beat the champions at Wembley on Monday, kick-off 20:00 GMT.
But Tottenham did not make any summer signings and said on Friday their new stadium will not be ready this year.
"Many things happened that make myself not in my best mood," said Pochettino.
The Argentine has led the club to three successive top-three finishes, but Spurs look set to exit the Champions League at the group stage for the second time in three years after taking one point from their opening three games.
"The season so far, it's strange because my feeling is the worst I've had in the five years that I've been here," he added. "But it's the best start ever for the club in the Premier League. It's strange, no?
"It's so difficult to explain because many things happen, I am disappointed we are still waiting for the new stadium when the expectation was to be there at the beginning of the season.
"I know I always have a good relationship with the media but my feeling is not the best feeling, I had a better feeling in previous seasons."
Spurs 'not focused on winning titles'
Pochettino also says the club "is not focused completely in winning titles or winning games", because they "need to fix other problems" and have "different circumstances" to the rest of the Premier League's biggest clubs.
"We have a lot of focus and you know very well when you are competing with sides like we are in the Champions League and Premier League, the most important thing is to fight in the same conditions as others," he said.
"Today, we spend a lot of energy in many things. One is to win games, but the club needs to be all focused in trying to win titles.
"Everything is not perfect but we are in a circumstance and a project that is completely different to another club, at the moment.
"But maybe when we arrive to the new stadium in the future, we will be in the same project, or we are going to act the same as other teams are acting like Liverpool, Manchester City, Manchester United, Chelsea and Arsenal."
A 'six-pointer' at Wembley?
Meanwhile, Manchester City manager Pep Guardiola says he was wrong to refer to Tottenham as "the Harry Kane team" last season.
The Spaniard suggested the England striker was Tottenham's only significant player, but went on to say his comments were misconstrued.
"They show me how wrong I was," said Guardiola, who also labelled Monday's game a "six-pointer".
"When you play against the contenders it's almost six points, isn't it?
"These are important. I don't know what's happened in the past but it's true that the strong teams are making a lot of points, they are not dropping points easily.
"That's why maybe the games against the contenders are becoming so important."