League Cup semi-finals: Dons prove a point, Gerrard's reality check, Celtic imperious, Hearts derailed

By Tom English
BBC Scotland
Last updated on .From the section Scottish League Cup
In two cities on either side of the country, 107,347 people turned up to watch the Scottish League Cup semi-finals on Sunday, more than 60,000 at Murrayfield for Celtic and Hearts and more than 46,000 at Hampden for Aberdeen and Rangers.
The pre-match hype was high and the numbers on the day higher still. It all looked terrific, particularly Murrayfield, where Scottish football recorded its biggest crowd for a domestic game in almost 30 years.
Did the football live up to the billing? No. Perhaps it was too much to expect two barn-shaking classics - or even one barn-shaking classic - but it was a day that threw up many issues as Celtic saw off Hearts 3-0 and Aberdeen beat Rangers 1-0. Maybe not the non-stop buzz everybody was hoping for, but talking points nonetheless.
Doncaster's mea culpa - sort of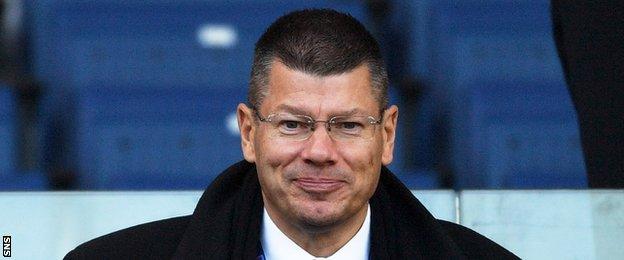 Even before a ball had been kicked at Murrayfield or Hampden, something akin to a footballing miracle had happened.
When Neil Doncaster, chief executive of the Scottish Professional Football League, went on radio before Celtic played Hearts and admitted, eventually, that the tournament organisers had got certain things wrong in the scheduling saga, there was an urge to write down not just his quotes but also the date. It was one of few occasions, perhaps the one and only time, that Doncaster has accepted that the SPFL has made a blunder.
Doncaster said that the SPFL made an error in sending out its statement that declared everyone happy with the original, and preposterous, double-header idea - both games being played at Hampden on the same day. Clearly, Hearts and Aberdeen were far from happy and made no secret of it.
The chief executive accepted that the wording was not right and that the statement shouldn't have been released. An apology wouldn't have gone amiss at that point, but he didn't go there.
"It's all worked out in the end," he said. It did, but that's not to say that people should forget about what was an organisational shambles in the beginning.
Fergie time
You can do anything you like with statistics and, after 75 minutes at Hampden, a fair portion of the Aberdeen support would have been getting ready to use them to bury Derek McInnes.
Even though Rangers were powder-puff up front, they still looked the team most likely to win the semi-final. That would have been another Aberdeen failure against their most bitter rivals, another day when Aberdeen failed to turn up for a big game.
Had they lost, the post-mortem would have been long and brutal and manager McInnes would have felt the heat like never before. The fact that they won changed everything.
Suddenly, one set of statistics was replaced by another. This will be Aberdeen's fourth major final under McInnes. Everything looks better now.
In that one nod of Lewis Ferguson's head, the manager went from target to totem, his name chanted from the stands. The vagaries of football were writ large over the manager's face all evening. This is a win he badly needed in order to calm the growing disquiet in the Aberdeen ranks.
Does it fix everything? Of course not. McInnes is worldly wise and will readily agree with Rangers boss Steven Gerrard's assessment that this was a smash and grab. It might have been even sweeter because of that, but McInnes has a lot to ponder while trying to find the spark that will ignite his team in the league.
Goalscoring is a colossal challenge for them. They have only 10 goals in nine league games - four of them coming in one match against St Mirren.
Gary Mackay-Steven is their joint-leading scorer in the league with two goals (both penalties) along with Sam Cosgrove (both of his goals came in that 4-1 win against St Mirren). James Wilson, Niall McGinn and Stevie May have two league goals between them.
McInnes has built a fine defence, but to use Sunday as a catalyst for improvement, he's got to transform his attack.
Reality bites for Gerrard
In the aftermath of Hampden, Gerrard said that if this group of Rangers players aren't good enough to win these games then he'll go and get others who are. That might have made the Ibrox board gulp. Some of these guys weren't cheap to recruit and they're not being paid in washers either.
This was a serious body blow to the Gerrard era. They continue to have a split personality at Ibrox; impressive in Europe but weak on the home front.
For all the garlands that have been thrown at Gerrard, there is a bitter truth about where they are at in the league right now. They have 17 points after nine games. This time last year, after nine games under Pedro Caixinha, they also had 17 points.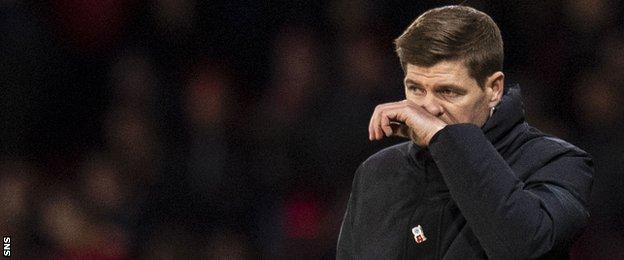 So, progress in Europe but no progress at all in the Premiership and now no progression to a domestic final either. Sunday was, arguably, the worst day of Gerrard's time at the club.
He saw his team dominate the ball without ever showing the wit to trouble goalkeeper Joe Lewis all that much. Part of their failing actually happened before Sunday. Alfredo Morelos' daft petulance ruled him out of the semi-final through suspension. That, and the ineligible Kyle Lafferty's absence, was always going to leave Rangers light on goal threat.
Gerrard has won less than 60% of his domestic games. Europe is camouflaging things at the moment, but it won't for much longer unless that form picks up.
Don't doubt the champions
Even without their leader, Scott Brown, Celtic retain the capacity to go up a gear when people are questioning them. They have done it routinely in recent times and they did it again in the second half at Murrayfield.
Manager Brendan Rodgers might be having a difficult time in Europe, but in Scotland, he has the players and the tactical acumen to beat anybody and everybody when the chips are really down.
This was their 21st straight victory in domestic cups. Of course, they hold a vast financial advantage over all others in Scotland, but since this run began, Hearts have beaten them twice in the league, Kilmarnock have also beaten them twice and Hibernian and Aberdeen have overcome them as well.
On 15 other occasions since Rodgers arrived, they've been held to a draw in the Premiership. Their financial advantage on those days was no less than it was in the 21 cup ties. How come teams can, at times, live with Celtic in the league but none of them have been able to do it in the cups?
It's because Celtic's big-game mentality in Scotland remains strong. We can point to the financial gulf, but we also need to point to their mental strength.
Just when you think that an in-form team, like Hearts, might catch them, they swat them aside. Sunday's win didn't just put them into another cup final, it added ballast to the argument that a third successive treble is not just possible but probable.
Crossroads for Hearts
It was always a long shot - bookmakers had them at 4-1 to win - but the sense of deflation for Hearts at Murrayfield must have been acute. For a team that has already beaten Rodgers' team not once but twice, this was a non-event of a performance, a damp squib when many were expecting fireworks.
Hearts have played some really good stuff this season, but at Murrayfield, they looked set up to contain Celtic rather than attack them. In that sense, they were just waiting to be beaten - and they were, badly. They didn't give the impression that they truly believed that they could win.
Their cause was damaged considerably by Steven Naismith's early injury. For all their laments about the result, the thoughts of Hearts people will have already turned to the Edinburgh derby against Hibs on Wednesday and the mounting casualty list that could, potentially, derail their season in quick order.
There seems to be a curse on the captain's armband at Tynecastle. Christophe Berra - injured. John Souttar - injured. Naismith - injured. Uche Ikpeazu is also out. Peter Haring needs a hernia operation.
Manager Craig Levein has worked hard to introduce depth at the club, but one by one their key men are falling. You wonder for how long they can sustain these losses before it starts to hurt them.
Their next three league games are against Hibs, Celtic and Kilmarnock. As much as Sunday was a crushing disappointment, their run of games in the league and the occupants of their treatment room are the things they'll be thinking about now.