Glasgow City head coach Scott Booth aiming higher after 12th league title
By Amy MacBeath
BBC Sport Scotland
Last updated on .From the section Women's Football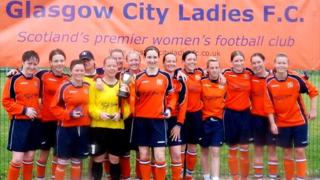 Glasgow City begin their run in 2007/08.
Glasgow City head coach Scott Booth says he has already started working on building a side fit to claim the club's 13th consecutive league title.
The Scottish champions were unbeaten in the Scottish Women's Premier League on the way to No.12, ending in a 4-2 victory over Spartans on Sunday.
However, with Hibs and others continuing to strengthen, Booth knows he has no time to enjoy their triumph.
"It's always a rebuilding job, it never stops," he said.
"I've a big job to do to make sure we keep the top talent at the club, to recruit some more hopefully and push on some of the players here that want to play more in the first team.
"The competitiveness in the league, everyone wants to beat Glasgow City and they step up their game in order to do so.
"But so far so good and we continue to come out top, and we'll continue that again next season if possible."
Booth, who took over from Eddie Wolecki-Black in 2015, guided Glasgow to their latest success despite his players balancing work, studies, league football and a Champions League campaign that has taken them to the last 16.
City's 2-1 win over Hibs in the penultimate fixture was the decider after the Edinburgh side matched their Glasgow rivals point for point all season.
However, the league runners-up denied them the League Cup for a fourth year running, and took the Scottish Cup for the third season in a row.
"We now want to put things right in the cups," stated the former Aberdeen and Scotland player. "It's something that hurts when we don't win.
"Without doubt we want to win the league again, but we also want to get to cup finals and win more trophies. And balance that of course with the Champions League."